Paper-thin 3D printed solar cells to provide affordable electricity for unlit rural areas
06.07.2015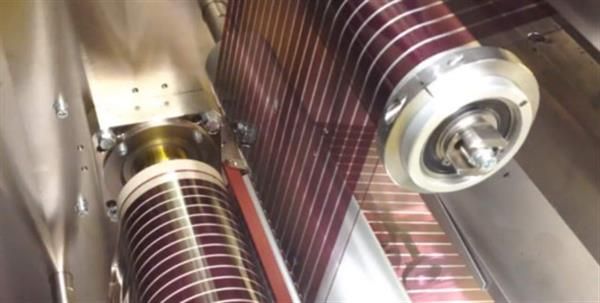 Thanks to a recent surge of interest surrounding various alternative energy sources and technologies including Elon Musk's announcement of a Tesla home battery, we've been seeing a number of new technologies that make harnessing these energies easier and more powerful than ever before - and many of them were created thanks to various additive manufacturing techniques.
Now, a new printed solar cell technology that only requires the use of existing industrial-size 3D printers and some perovskite material may soon promise clean renewable for 1.3 billion people in developing countries, too.
The new technology, which is capable of producing printed solar cells that are both flexible and inexpensive to transport, is better for manufactured cells for rural communities because it doesn't require the need for large quantities of silicon-based panels which are produced in wafers and require large amounts of sunlight to be efficient.
According to Scott Watkins, the director of the unit for overseas business at Korean firm Kyung-In Synthetic, these 3D printed solar cells have already been used in India. "I've witnessed first-hand how the technology has enabled urban poor communities in India to access off-grid electricity," says Watkins. "Its success is due to its cost effectiveness and simplicity. A 10×10 cm solar cell film is enough to generate as much as 10-50 watts per square meter."

Watkins recently spoke about the technology during the Smart Villages session of the World Conference of Science Journalists in Seoul, South Korea. Among other topics discussed included the interest and funding of the technology, which saw a jump in energy efficiency jump from 3 percent to 20 percent in just a matter of a few years.
Of course, just like most other new technologies, the new printed cells are not without their development hurdles. In their current state, the printed cells have shown to be vulnerable to moisture which could lead to contamination if a cell were to become brittle and break. According to Watkins, the organization is currently looking into different types of protective coatings that will help add durability to the cells without sacrificing their lightweight and flexible properties.

Additionally, replicating the production process that has proven to be successful in their own controlled lab environment has proven to be an expensive endeavor, too. Bernie Jones, a co-leader of the Smart Villages Initiative, states that although the method of producing the solar film strips at a low cost has been perfected, replicating the process to other production facilities will require a large amount of capital.
"Entrepreneurs we've engaged cannot afford to invest in the printing machines needed to produce cheap solar strips," says Jones.
Although gathering the funding is an uphill battle for any startup or nonprofit, the use of additive manufacturing methods to produce the cells is surely one of the most efficient ways of doing so regardless of where they end up setting up shop.