Personalize your 3D printed bow ties with water transfer printing
31.03.2014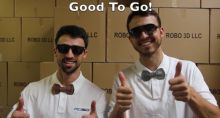 Using the RoBo 3D R1 Personal 3D Printer, the RoBo team created clip on bow ties. Using hydrographic process, they painted them in a wood grain and a carbon fiber. See the video below. Hydrographics is a method of applying printed designs to three-dimensional objects. The hydrographic process has been used by manufacturers for decades. Traditional printing methods can not fully print on 3D objects, especially if there are hard to reach areas. The water transfer printing process eliminates these issues by submerging the item into water, covering the whole surface.
According to Wikipedia:
In the process, the substrate piece to be printed is pre-treated and a base coat material is applied. A polyvinyl alcohol film is gravure-printed with the graphic image to be transferred, and is then floated on the surface of a vat of water. An activator chemical is sprayed on the film to dissolve it into a liquid and activate a bonding agent. The piece is then lowered into the vat, through the floating ink layer, which wraps around and adheres to it.