Philips Hue goes high-end with $3,500 3D-printed smart lamp
10.04.2014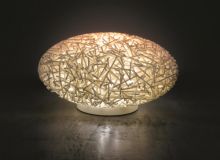 Smart home lighting is a growing field. Philips on Friday announced three new products hue wireless lighting ecosystem, including 3D-printed art-like luminaires, dimmable white-only hue lux bulbs and a unique battery-free wireless light switch called the hue tap.
The coolest one is the 3D-printed hue luminaires. In case you're not familiar, the Philips Hue is a Wi-Fi-enabled LED lighting system that allows you to control power, brightness, and color straight from your smartphone or tablet. You can also set alarms for the lights to start illuminating gradually to wake you up in the morning or dim as it draws closer to bedtime.
Philips' hue system is eye-catching, but this time Philips wants to add more style to the Hue smart-connected lightbulb line with help of 3D printing.
Co-created with design teams WertelOberfell and Strand+Hvass, the 3D-printed smart luminaires incorporate hue bulbs with 3D-printed shapes to produce what can be called light sculptures. Made in both pendant and table styles, the lamps are fully compatible with the hue ecosystem.
The Entity lamps are inspired by images from nature. The pendant lamp acts as two shells that encapsulate the Philips hue light source, generating stunning artistic effects. "We liked the idea of using the geometry seen in the eyes of crustaceans and insects then reversing them so they become light emitting cells rather than light gathering cells," explains WertelOberfell designer Jan Wertel.
"3D printing provides more freedom, control and even personalization when designing lighting products." Wertel says.
"This is a complex design that could not have been produced before 3D printing. The result is an exquisite light effect that transforms a lifeless living space into a colorfully lit ode to nature," adds designer Gernot Oberfell.
Conceived by Danish design duo, Strand + Hvass, the Tempest lamps are "inspired by shadows you see when the spring sun shines through naked branches," explains Christina Strand. "This was translated into a complex design, only possible when 3D printing is combined with Philips hue. Over 3,000 sticks are intertwined around the hue light source, recreating a captivating scene from nature," Strand continues.
The luminaires will be on display at the Philips Forum at Light and Building show in Frankfurt from 31st March – 4th April 2014.
Fully compatible with the Philips hue lighting eco-system of bulbs, lamps, apps and switches, the 3D-printed Philips hue table and pendant luminaires can be pre-ordered at Meethue, commencing March, 31st 2014 for: pendant EUR 2,999 ($4,122) and table EUR 2,499 ($3,434).