Special offer to celebrate Moscow City Day: 7 days of low prices for 3D Print Expo tickets!
05.09.2018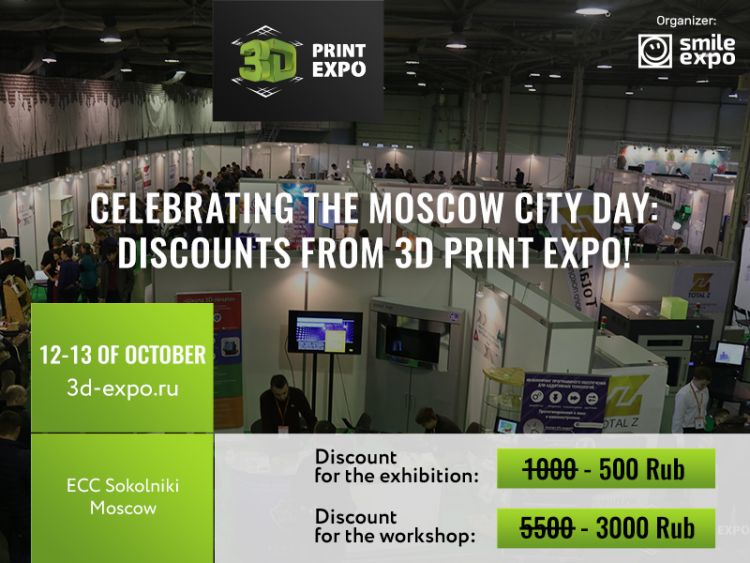 On September 7, the organizers of 3D Print Expo launch a special offer to celebrate Moscow City Day: the ticket price for visiting the exhibition is reduced to 500 RUB. The offer is valid until September 14 inclusive.
3D Print Expo is one of the largest exhibitions of 3D technologies in the CIS. This is a unique platform, where you can visit workshops on working with 3D printers, see the top equipment for 3D printing and attend lectures from industry experts. Several of the newest printers will be presented for the first time at 3D Print Expo.
Visiting the exhibition costs 800 RUB. But between September 7 and 14 you save 300 RUB due to the discount for Moscow City Day. You don't need any promo codes: the discount price will be displayed in the registration form on the website.
We have another two special offers as well. Use them to save as much as possible when visiting 3D Print Expo!
♦ Two tickets are cheaper: when buying two tickets for a workshop, the price of each is 3000 RUB (instead of 4000 RUB).
♦ Student ticket: for students and schoolchildren visiting the exhibition costs 300 RUB. At the entrance you need to show a student ID (for schoolchildren - pupil ID).
Hurry up to register and use the discount for Moscow City Day!