3D Print Expo 2017 is coming! Don't wait until the prices go up – buy the tickets now!
26.05.2017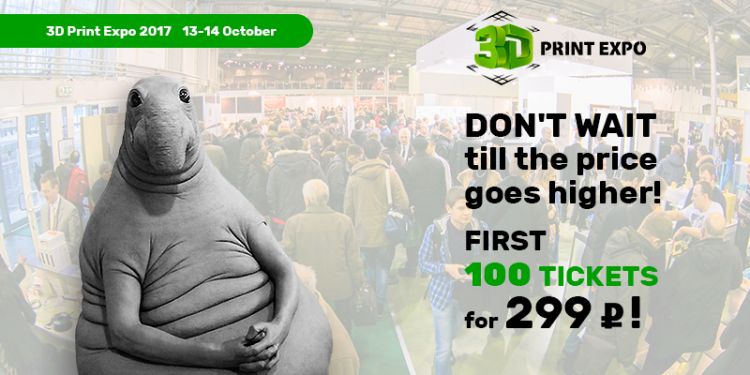 On October 13-14, ECC Sokolniki for the fifth time in a row will host a large-scale international 3D printing and scanning exhibition – 3D Print Expo 2017.
3D Print Expo is the largest event in Eastern Europe, dedicated to the promotion and implementation of advanced additive technologies.
Attendees will enjoy a presentation of the latest industry achievements, unusual exhibits, useful workshops, a spectacular show program, contests and many other interesting surprises from organizers.
For all admirers of the world of additive technologies, we have already opened the registration for the event and launched a special price applicable to the first 100 tickets – 299 rubles!
The program of 3D Print Expo 2017 includes:
an exhibition of cutting-edge 3D technologies from key industry leaders;
a business conference that consists of two streams: industry promotion and application of 3D printing in various fields;
a round table discussion with Skolkovo experts;
workshops on working with 3D printers, scanners and 3D modeling programs;
a presentation of the most promising startup projects;
3D Print Awards 2017 – a traditional awards ceremony of the best companies that greatly contributed in industry development.
The entertainment part of the event offers the following engaging activities:
a contest for the highest quality of printing among the exhibited 3D printers;
an art gallery with unusual 3D printed exhibits;
demonstration of 3D printed items;
contests and draws of valuable prizes;
eccentric exhibits;
an impressive show program.
Every year 3D Print Expo acts as a powerful industry driver, a place where representatives of various fields can build contacts: developers, manufacturers, distributors of 3D hardware and corresponding software, startup founders, investors, top managers, as well as everyone keen on modern technological trends.
Exhibition 3D Print Expo 2017 will take place in ECC Sokolniki, pavilion 2, on October 13-14. Tickets to the event are already available. Don't wait until the prices go up – hurry up to buy them at the lowest price!