Print the attraction of the city and get exhibition boothat 3D Print Expo!
08.07.2014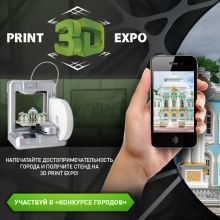 We invite artists, designers, sculptors and simply creative people who have their own 3D printer, to take part in "City Contest" to be held within the framework of 3D Print Expo!
All cities are beautiful in their own way, and each is famous for its tourist attractions. Tell others about these attractions and get your own booth at exhibition of three-dimensional technology 3D Print Expo.
Use your 3D printer to print the landmark of the city, and then send photos to contest organizers.
Conditions of participation:
To participate in the competition, from July 8 to September 5 send a photo of printed attraction to [email protected], in the subject line specify "City Contest". From 8 to 11 September the works received will be published in social networks, where all groups' subscribers will be able to vote for their favorite attraction. Based on the voting of subscribers three finalists will be chosen, and expert committee will select the winner among them; final result will be announced on September 12.
The winner will get a unique opportunity to present his exhibition booth at the main industry event of the year - 3D Print Expo to be held in "Sokolniki" on 23-25 October 2014. Here industry professionals - scientists, experts, manufacturers and suppliers, developers and everybody who wants to plunge into the world of three-dimensional printing will gather under one roof. The event will be of interest not only for business representatives, but also for everybody who wants to buy 3D printer for home use.
The exhibition will consist not only of the exposure of equipment for 3D-printing and scanning from domestic and foreign manufacturers; the exhibition will also include a conference where the most important issues of the industry will be discussed and practical sessions and master classes will be held.
Hurry up to take part!