Print like an Egyptian - UWE Bristol develops innovative 3D ceramic printing
03.04.2014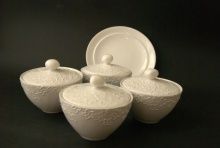 Researchers at the University of West England (UWE) Bristol, UK have developed an enhanced 3D ceramic printing technique to produce tableware, such as beautiful teacups and intricate ornaments.
For the first time it will be possible to print rapid prototypes in ceramic. Prior to this ceramic prototypes were cast in plastic or plaster so it was not possible to fire a prototype and test the glazes. Researchers have refined and enhanced a 3D ceramic printing process which has enabled the production of concept models of new design ideas in a real ceramic material, printed directly from CAD data, fired, glazed and decorated.
The new process, including glazing, firing and decorating of ceramic material takes only several days to complete, and it will enable faster turnaround times for new product designs for the tableware industry.
Professor Stephen Hoskins Director of UWE's Centre for Fine Print Research (CFPR) and David Huson, Senior Research Fellow, received funding of over £385,000 back in 2012 from the Arts and Humanities Research Council (AHRC) to undertake a major investigation into a self-glazing 3D printed ceramic, inspired by ancient Egyptian Faience ceramic techniques, which should enable ceramic artists, designers and craftspeople to print 3D objects in a material which they are familiar with and that can be glazed and vitrified in one firing.
Stephen Hoskins says, "Our work in 3D printing of porcelain for tableware is world leading, and is based on our patented material developed in CFPR."

Researchers have developed an innovative ceramic process using a ceramic powder designed to go into a standard ZCorp printer, which normally prints in a plaster based material. Using the patented ceramic printing process it is now possible to successfully print, glaze and fire a porcelain type body to 1200 degrees C. The ceramic object can then be rapidly glazed and decorated – a quantum leap in the world of 3D printing.
Their 3D printable ceramic material, called 'ViriClay', has wide applications for whiteware and tableware industry. Researchers claim using their material will reduce the total time, labor, and energy required to make a 3D printed ceramic objects by more than 30%. ViriClay is compatible with standard 3D printers, allowing users to produce unique works of art without incurring modeling and tooling costs.
Professor Hoskins explained, "The ceramic material developed at CFPR for use in 3D printing is both aesthetically pleasing and also a functional material, unlike the typical prototyping materials commonly used in 3D printers.
"The ceramic material can produce items of a high quality both in terms of design and also in terms of function - it can create elegant tableware and ornamental ceramics.
"Because of its aesthetic qualities, it appeals to designers and artists who want to create lasting products that are also beautiful."
A spin out company, called 'Argillasys', (from the Latin word for potters clay) is due to be launched by the team. The new company aims to commercialise the 3D printing of porcelain. It will be co-owned by the University and will be the world's first company to print 3D porcelain.
Argillasys will offer a bureau service for designers where they will be able to bring high quality designs that could be 3D printed in ceramics. It will also offer specialist prototyping of tableware for the industry and an on-line shop selling 3D printed ceramics.