Print Happiness
13.12.2013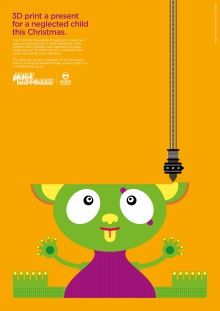 This Christmas thousands of vulnerable children will wake up with nothing.
To help provide presents for vulnerable children Kids Company have opened a toy shop where you can 3D print a real toy for a child simply by making a text donation.
Here you can see a live stream of the shop on Great Windmill Street and also contribute to the project.
To help 3D print a present for a vulnerable child Text 'KIDS MONKEY' TO 70080.
Find our more on Twitter and Instagram #Printhappiness.
100% of donations will go to Kids Company with Abbott Mead Vickers BBDO printing a toy for each order placed. If donation numbers exceed the number of toys that can be printed, donations may remain a monetary contribution only. £5 SMS will be billed to your mobile account. Network charges apply.


Dates: 13-18 of December 2013.
Place: 39 Great Windmill Street, London W1D 7LX