Printers, scanners, and materials for 3D printing: all of this and even more at 3D Print Expo!
03.10.2017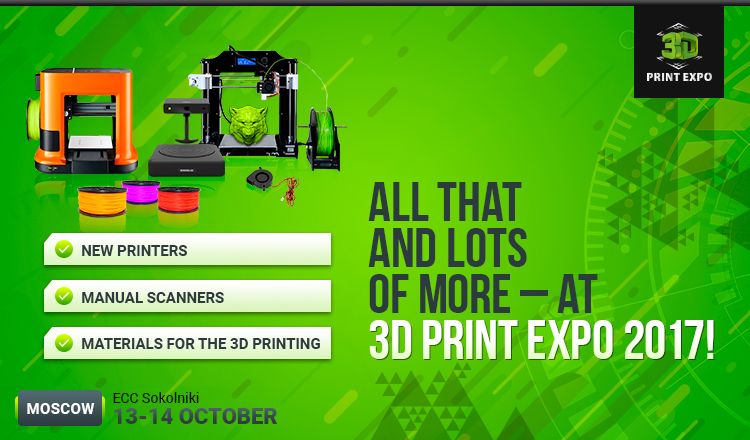 On October 13-14, Sokolniki ECC will host the fifth annual exhibition and conference dedicated to advanced solutions for three-dimensional scanning and printing.
Exhibitors of Print Expo 2017 will include more than 50 specialized companies. The majority of them are Russian manufacturers whose products are as good as offers of European and American market leaders.
Innovations
Even such a relatively new industry as three-dimensional printing consists of traditional and innovative representatives. Existing achievements are enough for the first ones, while the second ones investigate, develop, and create something brand new.
Russia-based Thor3D develops advanced 3D scanning equipment and software. Its engineers have designed the first-ever wireless handheld scanners: Thor3D and Drake.
It is these companies that will be involved in 3D Print Expo as demo zone exhibitors.
Distribution
Cvetnoi mir Company, the largest provider of devices and raw materials on the Russia market, will present its products at the exhibition. The distributor has the exclusive rights to sell Raise3D printers in Russia as well as supplies products of many other foreign companies.
Due to Cvetnoi mir activity, the Russian 3D technology market regularly meets the best foreign novelties.
Education
The interaction between technologies and equipment is more than just the production and supply of equipment for educational institutions by companies.
Spain-based BQ is the European leader that has impressed the Russian market with its DIY solutions in 2017. BQ produces educative robotics, smartphones, 3D printers etc. The main distinguishing feature of its products is the software open source code.
It is caused by the company's philosophy, focusing on the development of technological education and promotion of DIY products. BQ devices are not just tools but the opportunity to implement its own ideas, experimenting with different things.
Ecology
Environmental care is one of crucial obligations of a conscious person. A production sector is able not to damage the ecology, which is proved by many successful world-known brands.
15 years ago, Shenzhen Esun Industrial established itself as a leader in the development and creation of decomposable polymer materials. Over the past 10 years, ESUN specialists have been researching 3D raw materials. They have designed such kinds of plastics as PLA, ABS, and water-soluble PVA, as well as developed HIPS, PA and others.
Security
Using a certain gadget, we want to be sure that it won't hurt us our close ones. 3D Print Expo will present products, passing a thorough examination.
Security is one of the main aspects followed by production companies of CYBERON Group. This feature is controlled when developing all of its printers and printing materials. CYBERON products are commonly used in educational establishments and can be applied at home.
Other demo zone participants
The exhibition will involve the following manufacturers and distributors of 3D printers:
► UnionTech;
► NISSA Digispace;
► Irwin;
► "Plant named after S.M. Kirov" JSC;
► Triniti;
► MAESTRO;
► Imprinta;
► Dipaul;
► ELECTROPRIVOD-M and many others.
Three-dimensional scanners will be presented by:
► Thor3D;
► RangeVision;
► 3DVision;
► Kingpai etc.
3D Print Expo 2017 will involve such manufacturers and distributors of consumable materials as:
► ENERGOAVANGARD;
► FDplast;
► REC etc.
Details of the event program and registration can be found on the 3D Print Expo 2017 website!