Production of 3D printers in Belarus
05.03.2014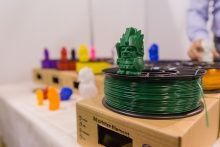 According to deputy chairman of the Presidium of the National Academy of Sciences, Doctor of Engineering Sergey Chizhik, it is too late to think about production of commercially viable smartphone, but there are other products that can turn Belarus into leader of high-tech industry.
"We shall pay attention to what is in demand in the market and what we can quickly create. To produce certain types of products, such as smart phones, it is necessary to engage the industry of the whole country. But that ship has sailed", Chizhik said during the roundtable "Science and innovation: Results and Prospects", organized by the NASB. "However, today 3D printers enter the market. I am sure that this product is our speed, because development of this sphere is in the early stage right now".
Chizhik compared the current situation in 3D printers' production with launch of the first computers: "I believe you remember that they were primitive, and see what computers are like today". He stressed that today 3D printers can be used not only in everyday life and manufacture, but also in construction, medicine and other fields.
"We have everything to manufacture the product in Belarus", Chizhik said. "We have precision mechanics, developed programming, and there will not have problems with consumables. We could take a truly decent position".
When asked what practical developments Belarusian science can be proud of today, Chizhik held up drones as an example: "Today Physics and Technology Institute products customized drones in small batches. Drones are used by community facilities, Emergency Situations Ministry, Ministry of Natural Resources, and I believe that interest to drones in Belarus will further increase. In addition, orders for our drones come from abroad, particularly from Vietnam and Turkmenistan".