Quin: fashion doll designed to be printed on your desktop 3D printer
04.01.2014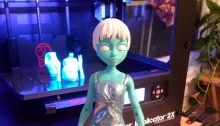 3DKitbash, the company behind 3D Printer Test Kit, wants to create professional quality fashion doll designed for printing on desktop 3D printers. Quin is the 3D printable, customizable fashion doll, "a one-of-a-kind experience for enthusiasts of homespun 3D Printing", writes the team. Fully constructed Quin stands eleven inches tall and has interchangeable eyes, articulated limbs, multiple hand options, and 3D printable hair styles. She is similarly sized to preexisting fashion doll lines and compatible with much of their clothing and accessories.

After printing you can simply click the parts together, no support materials and no glue required. 3DKitbash has launched Quin on Kickstarter today for fundraising. All backers will receive the digital file required to print as much Quin doll as they like. You can also customize the Quin to make it compatible with the clothing and accessories for other fashion doll lines. For example if you want Quin to be able to wear Barbie shoes, you can change the 3D file of her lower leg to make it match to Barbie's foot profile.

"We hope makers, inventors, and toy fans will build add-ons and custom features for Quin. She is more than a pretty doll. She is also an inventing platform. With imagination and the right skills and equipment, anything is possible!" writes 3DKitbash.