Researchers use CT scans, 3D printing to re-create hidden dinosaur fossil
26.11.2013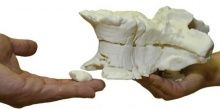 German researchers used a CT scanner and a 3D printer to make accurate copies of a dinosaur fossil that's been stored in protective plaster for decades, according to new research published online in the journal Radiology.
"The most important benefit of this method is that it is non-destructive, and the risk of harming the fossil is minimal," said Ahi Sema Issever, a radiologist at the Charite Campus Mitte in Berlin. "Also, it is not as time-consuming as conventional preparation."

The unprepared plaster jacket containing the original dinosaur fossil next to a 3D printed piece / image: Radiology / RSNA
Fossils are often wrapped in plaster casts, or jackets, to protect them from damage during transport or storage. Getting information about a fossil typically requires the removal of the plaster and all the sediment surrounding it, which can lead to loss of material or even destruction of the fossil itself.
Dr. Issever and colleagues scanned an unidentified fossil from the Museum fur Naturkunde, a major natural history museum in Berlin with a 320-slice multi-detector system. The plaster, sediment and fossilized bone absorbed X-rays differently, yielding a clear picture of a fossilized vertebral body inside.
The fossil and others like it were buried under rubble in the basement of the museum after a World War II bombing raid. Since then, museum staff members have had difficulty sorting and identifying some of the plaster jackets.
After studying the CT scan and comparing it to old excavation drawings, the researchers were able to trace the fossil's origin to the Halberstadt excavation, a major dig from 1910 to 1927 in a clay pit south of Halberstadt, Germany. In addition, the CT study provided valuable information about the condition and integrity of the fossil, showing multiple fractures and destruction of the front rim of the vertebral body.

Furthermore, the CT scan was then sent to a 3D printer, which created an accurate reconstruction of the fossil with selective laser sintering, a technology that uses a high-powered laser to fuse together materials to make a 3D object.
Dr. Issever noted advances in 3D printing are likely to make faux fossils much more available and much less expensive. Digital models of the objects can be transferred rapidly among researchers, and endless numbers of exact copies may be produced and distributed.
"The digital dataset and, ultimately, reproductions of the 3-D print may easily be shared, and other research facilities could thus gain valuable informational access to rare fossils, which otherwise would have been restricted," Issever said. "Just like Gutenberg's printing press opened the world of books to the public, digital datasets and 3-D prints of fossils may now be distributed more broadly while protecting the original intact fossil."