Rolls Royce to flight-test Trent XWB-97 engine with largest-ever 3D-printed component
23.02.2015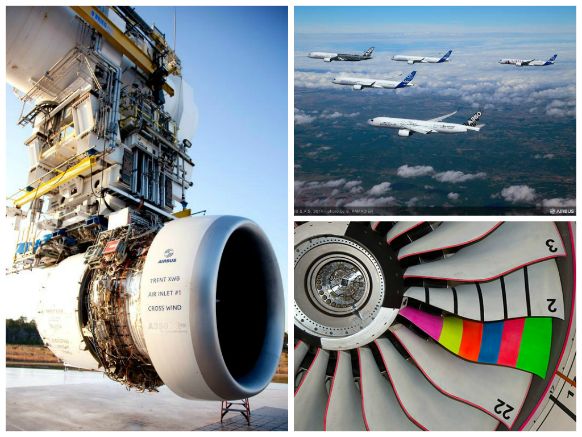 Rolls Royce says they will flight-test later this year a Trent XWB-97 engine fitted with "the largest component ever built using 3D printing".
Earlier Rolls Royce has completed the ground test runs of several higher-thrust version of the Trent XWB, followed by inspections and data analysis, in preparation for testing up to the full takeoff power of the engine. But no engine including such a large 3D printed component has ever powered an aircraft in flight, says Rolls-Royce.
The XWB-97 looks very much like the A350-900's XWB-84 engine and is optimized for the largest A350 XWB family member - the A350-1000, to deliver maximum efficiency and thrust in order to power the larger aircraft.

The Trent XWB-97 produces 97,000lb of thrust while the XWB-84 produces only 84,000 lbs. The increased thrust is achieved through a combination of new high-temperature turbine technology, a larger and scaled up engine core and a higher-flow fan, enabled by advanced aerodynamics as well as the 3D printed compoments.
The 3D printed nickel structure is a 1.5m-diameter and 0.5m-thick front bearing housing containing 48 aerofoils. According to the company, the technology used inside the engine results in it being lighter, and producing more power. But Rolls-Royce will not commit to a timescale for industrial manufacturing of 3D printed components of this scale. "We don't want to put a date on it," Alan Newby, chief engineer for future programmes and technology told Flightglobal. "We have a lot of work to do on scaleability before making a commitment to production."

Rolls-Royce is not new to 3D printing. It has used 3D printing for prototyping and repairing components for five years. Two years ago, Rolls-Royce announced that it was considering using 3D printing to manufacture lighter components for its aircraft engines.
Images: Rolls Royce
Dr. Henner Wapenhans, the company's head of technology strategy, said at that time that 3D printing would enable Rolls-Royce to create better lightweight structures and slash lead times.
"3D printing opens up new possibilities, new design space," Dr Wapenhans said. "Through the 3D printing process, you're not constrained [by] having to get a tool in to create a shape. You can create any shape you like."
Currently the Derby-based company is working with specialists from the UK's University of Sheffield and Swedish-based 3D printer manufacturer Arcam to using their knowledge to build large 3D printed components.
With help of 3D printing, parts could be made a lot quicker. "One of the great advantages in the aerospace world is that some of these parts that we make have very long lead times, because of the tooling process that's got to [happen], and then it takes potentially 18 months to get the first part after placing an order – versus printing it, which could be done quite rapidly." Dr Wapenhans said.
"Even if it takes a week to print, that's still a lot faster."
Rival GE Aviation has already started using 3D printing technology called Direct Metal Laser Sintering to produce advanced fuel nozzles for future commercial jet engines, including the GE9X. The components created with direct metal laser melting are stronger and lighter than with conventional machining, said GE.