Scientists develop new app to turn mobile phones into 3D scanners
21.12.2013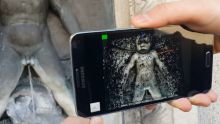 3D scanning aims to capture the geometry of the 3D world, however most existing solutions require a complicated setup. But here is an amazing stuff: The Computer vision and geometry Lab of the Swiss Federal Institute of Technology in Zurich (ETHZ) developed an app that turns your normal smartphone into a mobile 3D scanner.
Instead of taking a normal photograph, a user simply moves the phone around the object of interest and after a few motions, a 3D model appears on the screen. As the user keeps moving, additional images are recorded automatically and used to extend the 3D model. The nice thing is, as all calculations are performed directly on the phone, the user gets immediate feedback and can select additional viewpoints to cover missing parts of the 3D model.

"This is an important advantage compared to solutions that batch process all the images in the cloud at a later time", explains Marc Pollefeys, professor at the Institute for Visual Computing.

Approach works in a wide variety of settings

The app also makes it possible to visualise the state of the 3D scan from different viewing angles, allowing the user to cover all the areas of the object he is interested in. Having a solution on a mobile phone enables the acquisition of 3D scans on-the-fly anywhere. The approach works in a wide variety of settings, including low-light conditi-ons such as inside a museum. A user can capture a 3D model of a museum piece and interactively study it at home later. After reviewing the model, a user might decide to upload his 3D data to a cloud service to further refine the results.

By using the inertial sensors of the phone, the scanning process can be made simple, intuitive and robust. After the 3D capture is started, the system automatically determines the correct moments to extract camera images based on the user motion. "Only two years ago, such a software only run on massive computers. We were able to shrink processes down on smartphone level and make them highly efficient", says Marc Pollefeys.

ETHZ demonstrated publicly their technology for the first time this week at the International Conference on Computer Vision in Sydney, Australia. The patent pending technology can run on a wide range of current smartphones.