Separate section will be dedicated to applications for 3D printing and scanning at MATE Expo 2015
02.02.2015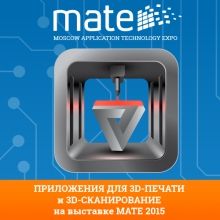 Long ago 3D printers and scanners were only a part of the distant future. Later we saw them with our own eyes – these were huge and expensive devices available only for industrial elite. Today the field of three-dimensional printing is booming: devices that allow making new things for completely different purposes right here and right now can be placed on a desk and are available to almost everyone.
Today, 3D printing can be carried out using materials such as plastic, metal, ceramics, sand, rubber, paper, biomass and even human tissue! Needless to say what opportunities development of this sphere opens up. That is why at Moscow Application & Technology Expo (MATE Expo) 2015 a separate section will be dedicated to 3D technologies.
Its attendees will have an opportunity to see exhibition of 3D printing. Participants of the section will demonstrate unique products from different materials. Guests will be able not only to ask all questions they are interested in, but also personally test all new items.

In addition, section will showcase the latest software for 3D printing, and it will undoubtedly be of interest to manufacturers of machinery and entrepreneurs doing business in this area.
It will also be of interest for guests to get to know more about apps for 3D printing: the exhibition will feature exhibits that help simplify the work of 3D printers and scanners, and promising developments that will break into the world of three-dimensional printing in the near future.
Show attendees will get answers to all their questions, see the results of fascinating research and hear experts' forecasts concerning industry development of the world and in Russia in particular.
At the same time for manufacturers of software and applications, 3D printing expo section will be an excellent opportunity to showcase their products, exchange ideas with peers and find investor.
Hurry to register for Moscow Application & Technology Expo: meeting will take place very soon - in March 2015!
For more information about the event – please visit www.mate-expo.ru or call: (495) 212-11-28 (64)