SIU System + 3D MINT = Golden Antelope
11.02.2014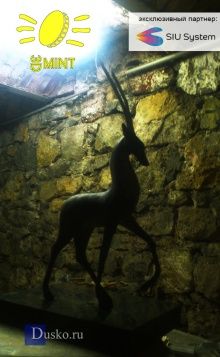 SIU System, an official distributor of an American 3D SYSTEMS Corporation in Russia, has become an exclusive partner of 3D MINT booth at 3D Print Expo that will take place on the 13-14 of February in Moscow.
3D MINT booth will demonstrate first coin models of the Innovational Money series. Innovational Money is an art imagination project created by Maksim Kashyrskiy, featuring designs of new Russian money with images of great Russian scientists and inventors. They've also designed a coin for 30 years of 3D printer invention anniversary, portraying Chuck Hull, scientist, co-founder and VP at 3D Systems.
3D MINT booth will feature Olympic charka and Music of Love diadem model, dedicated to St. Valentine's Day.
At 3D MINT artists' request, Serbian sculptor Dusko Boinovich (Dusko.ru) has created a Golden Antelope sculpture, inspired by the similar animated film.
As part of 3D Print Expo, with SIU System specialists' assistance, Dusko will scan a 3D sculpture and print its copy using a 3D printer. In the future, it will be annually printed in small bulks and in different materials. Why the limited editions? You do remember the cartoon's ending, don't you? =)
SIU System is a modern company providing efficient state-of-the-art solutions for 3D printing and prototyping. The company actively supports artists and creative organizations.
About 3D MINT:
3D MINT is a joint project of the artist Maksim Kashyrskiy (Kashirskiy.com) and producer Alexandr Hollander (Hollander.im). 3D MINT brand uses 3D modeling, scanning and printing technologies to create artistic designs of coins, honors, accessories and sculptures. 3DMINT.ru
About SIU SYSTEM:
SIU System provides advanced complex solutions for supplying and maintaining a wide range of 3D printers and scanners, software, as well as industrial, lab and instrumentation equipment. The company is an authorized distributor of 3D Systems (USA), the leading prototyping equipment manufacturer.
SIU System aims to serve clients' business demand, providing customized equipment selection help and its complete maintenance. Most interesting target areas of SIU System are the integrated 3D printing and scanning in dental, jewellery and architecture industry. The company is actively cooperating with corporations, private and state organizations, involving advanced prototyping technologies. SIU System's unique showroom offers a full scope of services and selects, supplies and maintains relevant equipment. 3D-Store showroom has in its stock 3D printers of 3D SYSTEMS, global equipment manufacturing and prototyping leader. 3D-Store offers a unique possibility to learn about the modern 3D printing technologies, buy a 3D printer, 3D scanner or any consumables. 3D-Store provides the most various scope of 3D modeling, 3D scanning and 3D printing services using the most up-to-date 3D Systems equipment. More information here: www.3d-store.ru
Moscow will host a unique event, devoted to the promotion of innovational technologies in Russia -- 3D Print Expo, taking place on the 13-14 of February, 2014 in ECC Sokolniki. It will become the main industrial event of 3D printing and scanning segment, uniting scientists, experts, developers, suppliers and everyone interested in promotion of the technology.
Join!