Smart Replicas: Bringing New Life to Museum Collections with 3D Printing
16.07.2014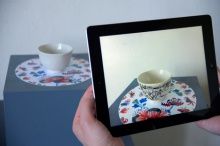 Museums that house objects have a particularly difficult task. These objects were created with the intention that they would be handled, and part of the fascination with them lies in human activity that they indicate. However, for the safety of the objects, they are most often placed behind glass cases and out of reach of the average museum visitor. This can make them little more than pictures of themselves and creates a distance between viewer and object that is difficult to overcome. As a result, many museums have been looking to technology to help them reconnect their collections and their visitors.
Enter Dutch designer Maaike Roozenburg and her 3D printing knowledge. Roozenburg creates replicas of precious objects and then adds a layer of augmented reality information. She calls these new creations "smart replicas." The information contained in these objects can then be accessed via smartphone or tablet, providing visitors with a better understand of each piece. She explained the logic behind this type of enhanced reproduction:
"I think most people would agree that visiting a museum to look at teacups exhibited in glass boxes is boring. Utensils were made to be used, to be presented with life, and in a museum format they lose their main purpose and obviously their soul."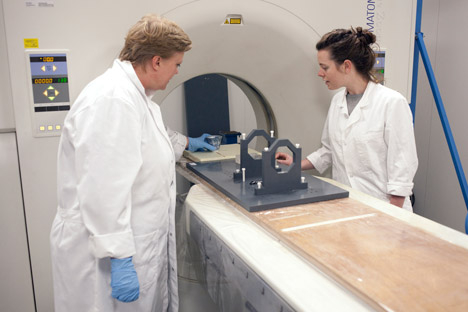 When Roozenburg decided that she wanted to create these replicas, she first contacted a man named Harold E. Henkes, owner of Netherland's largest collection of ancient glass objects. He was in favor of the idea, but everything in his collection was housed in the Museum Boijmans van Beuningen. Roozenburg's next hurdle was to convince the museum to let her scan the fragile pieces.
"It took me six months to convince the museum that this would be safe. I was terrified. They were terrified. I took out insurance for the first time. It was very stressful when we were starting out."
Roozenburg collaborated with assistant professor in computer aided engineering at TU Delf, Jouke Verlinden to develop the system for scanning and modeling the collection, beginning with seven antique cups. They used a tomography scanner into which a bed with the cups on top was sent for scanning. The sectional images of the cups were used to create 3D models for printing. From the 3D printed replicas, molds were created in which to cast a further version in porcelain.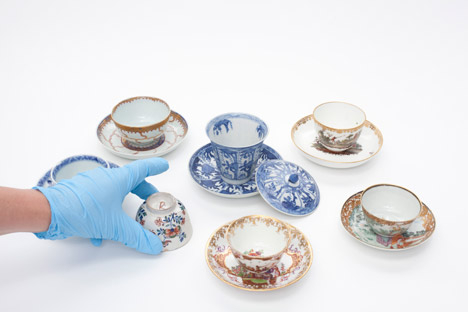 Once those replicas were complete, the next step was to make them available to the public as part of the museum's display. Roozenburg and the museum staff hoped that being able to pick up and examine the objects would generate a more profound connection between object and museumgoer. Given the passive nature of museums, which most visitors are accustomed, getting them to interact with the objects was more challenging than was anticipated. However, as this type of display becomes more common, it seems likely that it will enhance the museum experience in a truly valuable way.
Unfortunately, cultural institutions such as museums rarely have the funding or infrastructure in place to support the research and development necessary to advance this type of system from experimental to commonplace. Instead, Roozenburg has turned to a creative agency specializing in information architecture, LikeFriends, to collaborate in the creation of improved interface for the augmented reality.