SOLS unveils ADAPTIV, robotic, 3D-printed shoes that dynamically adjust pressure and shape to fit you
22.02.2015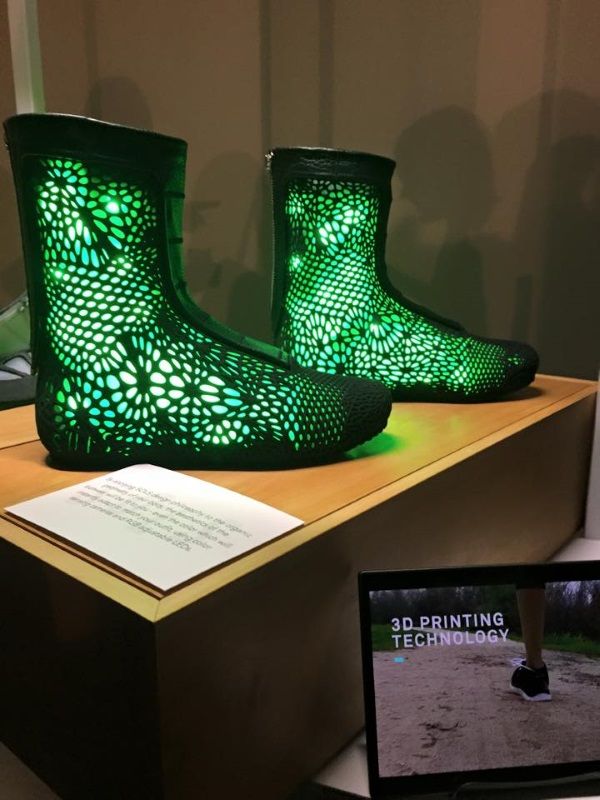 This February, SOLS, the pioneer of custom mass manufacturing of orthotics, unveils their vision of the future of footwear, ADAPTIV, at the NBA All Star Weekend event, FAST – AW15, hosted by Carmelo Anthony of the New York Knicks (Co-founder of Melo7 Tech Partners), Katalyst Live, MADE and Intel.
ADAPTIV is a 3D printed shoe that utilizes a system of gyroscopes and pressure sensors. It is able to move air pressure or fluids throughout the shoe to support your body's shifts and motions.
"We've always believed that form, function and design were never meant to be separate, and should be customized to you." notes SOLS. "With customized footwear, the athlete will be protected from common lower extremity injuries and will be able to achieve peak performance; the fashionista will be able to customize her style with every outfit. The individual will be unstoppable."

Founded in 2013, SOLS Systems is the technology company re-engineering the way individuals walk bringing custom 3D printed orthotics to the consumer market. Last April the company raised $6.4 million in Series A funding led by Lux Capital.

ADAPTIV is a modular shoe concept, glue and waste-free, made on demand and custom for the wearer. With its Instant Adaptability theory, ADAPTIV is able to constantly adjust itself to your body's shifts and motions with a system of gyroscopes and pressure sensors that inform the footwear's adaptive materials to move air pressure and fluids to the areas that meed support and away from the areas that need flexability. With every step, you will have infallible shock absorption.

The concept for ADAPTIV combines biomechanics, fashion, and cutting edge robotics that make the vision clear and empower the wearer and the footwear prototype introduces adaptive, responsive, and transformative technology.
"Inspired by cutting edge advancements in soft robotics, we saw an opportunity to design a responsive cellular structure that mimics the wearer's unique biomechanics while responding to movement. ADAPTIV is the next step in the evolution of footwear," said CEO of SOLS, Kegan Schouwenburg.
"With every step, individuals will have infallible shock absorption and have the perfect posture." stated Jordan Diatlo, SOLS Lead Industrial Designer. "My interests in emerging technologies such as soft robotics, shape memory alloys and multi-material 3D printers largely influenced the concept of Instant Adaptability."
SOLS envisions a future of footwear that is not only custom made for your body and your life style but also custom made for your every movement. Photos of your entire foot and ankel will be used to 3D print footwear with Instant Adaptability. Even the color of shoes will intantly adapt to match your outfit using color sensing cameras and RGB adjustable LEDs.
3D printing service company Shapeways printed ADAPTIV in elasto plastic. Additionally, Continuum Fashion collaborated with SOLS on the design and Super Releaser on the soft robotics.
"300 million pairs of shoes are thrown away each year and I believe 3D printing has the potential to change that," said Schouwenburg.