Stratasys adds flexible & rigid materials for Objet500 Connex3 color Multi-material 3D printer
11.06.2014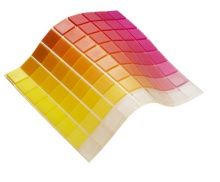 To achieve true product realism in 3D printing and additive manufacturing, 3D printer manufacturer Stratasys released today extended range of flexible and rigid material options for the Objet500 Connex3 Color Multi-material 3D Printer. These new materials create virtually unlimited combinations of flexible, rigid, and translucent-to-opaque colors in a single print run.
The new offering include six flexible material palettes featuring more than 200 vibrant color shades. These consist of:
Three flexible 72-color palettes, composed of rubber-like (TangoPlus) and combinations of rigid opaque (VeroCyan, VeroMagenta and VeroYellow) materials.
Three flexible 68-color palettes, built with rubber-like (TangoBlackPlus) and combinations of the same rigid opaque (Vero) colors.

In addition, to make product realism even more real, Stratasys also increased the number of gray and subtle color options with:
Three 45-color rigid gray palettes, each of which combines rigid VeroWhite and VeroBlack with colors.
One 45-hue gray palette, with varying levels of translucency, and which includes a reflective luster for the production of sleek, high-quality parts for products such as consumer electronics.
Earlier this year, Stratasys unveiled its revolutionary Objet500 Connex3 Color Multi-material 3D Printer, the first 3D printer to be able to combine colors with multi-material 3D printing. The Objet500 Connex3 3D printer uses rubber and plastic as base materials and these materials, including digital materials, rigid, rubber-like, transparent, can be combined and treated to come up with products of varying rigidity and flexibility.
The new options are ideal for creating medical, automotive and consumer product housings, says the company.
"The Objet500 Connex3, already the most versatile 3D printer on the market, can now leverage over 1,000 color options and virtually unlimited combinations of flexible, rigid and translucent-to-opaque colors in a single print run. This provides true final product realism and versatility in end-to-end applications." said Boaz Jacobi, Product Marketing Manager, Stratasys.
"The wide variety of material combinations enables manufacturers to create parts that actually look, feel and function like future products rather than only looking like them. This allows the production of complete products without manual assembly and means product designers can now validate designs earlier in the product development cycle, accelerating time-to-market."
Check out the video below, introducing Stratasys' new vibrant color flexible and rigid materials and presents some applications to flex your creativity.