Stratasys to be acquired by HP or Epson?
21.02.2014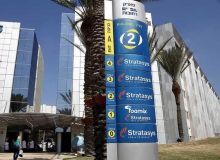 According to an analyst at Bloomberg, Hewlett-Packard Co. (HPQ) and Seiko Epson Corp will have a chance to move away from the declining market of paper-and-ink printing by making strategic acquisitions of a leader in the 3D printing technology.
2013 was an outstanding year for 3D printing, with share prices of the listed companies doubling or more. In 2014 it is likely that there will be more companies get involved in 3D printing.
HP is working on developing 3D printing technology, announced HP CEO Meg Whitman last year. HP first ventured into the 3D printing space through an early partnership with Stratasys, which was created in 2010 to produce HP-branded 3D printers. The partnership ended in 2012. Now HP plans to enter the 3D printer market in the middle of 2014. HP Labs is looking at glass as a potential candidate for use in 3D printing and has been exploring several possible ways of printing it.
Seiko Epson had also expressed their interests in 3D printing. In 2011 Epson CEO Minoru Usui said that the company was developing 3D printer and in a few years it will be possible to print on demand in 3D.
"Rather than build their own 3D printers, the companies would have a better shot of capturing that growth by buying Stratasys," said Bloomberg.

"Stratasys would be a pricey purchase for a buyer with its stock near a record", according to data compiled by Bloomberg. Stratasys' deal price is valued at a 33 percent discount to rival 3D Systems Corp. But Jon Shaffer, a New York-based analyst at Credit Suisse, believed Stratasys may be a more attractive target than competitor 3D Systems because a greater portion of its business is tied to consumers after its purchase of MakerBot. Shaffer said Stratasys might demand 25% premium of its company value for a deal price, which would be around $152 per share.
Bloomberg's data showed that Stratasys's enterprise value of $5.2 billion is 7.8 times its projected revenue for this year. Compared with a multiple of 11.7 for 3D Systems, Bloomberg believed that acquiring Stratesys could be a better deal.
FBR analyst Ajay Kejriwal commented that Stratasys has "a high-quality profile of products and technologies. It has a very solid management team and very good brand names," and "there's no reason why it should be at a discount."
Stratasys spokesman Shane Glenn refused to comment when asked if the company was open for a sale, citing company policy.