Stratasys launches multi-material full color 3D printer Objet500 Connex3
04.02.2014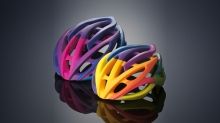 3D printer manufacturer Stratasys unveiled its latest revolutionary Objet500 Connex3 Color Multi-material 3D Printer at SolidWorks World 2014 in San Diego. The printer is the first 3D printer to be able to combine colors with multi-material 3D printing.
It features "triple-jetting" technology that combines droplets of three base materials to produce parts, saving time by producing multi-color, multi-material parts in a single run and reducing the need for multiple print runs, painting and assembly.

The Objet500 Connex3 will cost about $330,000 (€241,200 / £200,000).
The Objet500 Connex3 3D printer uses rubber and plastic as base materials, and Stratasys says these materials, including digital materials, rigid, rubber-like, transparent, can be combined and treated to come up with products of varying rigidity and flexibility.
Similar to a 2D inkjet printer, three color materials - cyan, magenta and yellow, are combined and the manufacturer says multi-material objects can be printed in hundreds of colours. It even comes with six palettes for new rubber-like Tango colors, ranging from opaque to transparent colors in various shore values. So designers or engineers can 3D print complex prototypes and moving parts without assembly or painting, for example the flexible booties as below.

The Objet500 Connex3 3D printer will allow companies to create colorful models from investigating concepts to pre-production pilot runs, according to the company, it could cut down design and prototyping time by 50 percent. "As the first true multi-purpose 3D printer, we believe the Objet500 Connex3 Color Multi-material 3D Printer is in a league of its own, enabling you to dream up a product in the morning, and hold it in your hands by the afternoon, with the exact intended color, material properties and surface finish." says Stratasys VP of product marketing and sales operations Igal Zeitun.
The Objet500 Connex3 Color Multi-material 3D Printer is available today but the flexible materials in color won't be available until Q2/2014.