SwimCity on Water to Use Recycled Concrete and 3D Printing for Sustainable Housing
11.12.2014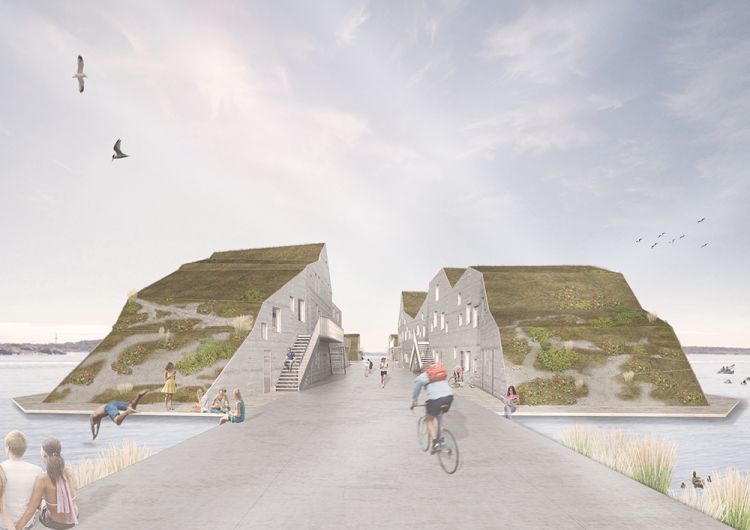 Although the Swedes can hardly be blamed for global warming effects, Swedish architectural firm Belatchew Arkitekter has presented the project for a futuristic housing complex on water, that could easily thrive in a Waterworld like scenario due to Polar ice melting. The firm's goal, however, is not surviving global warming as much as preventing it, by using 3D printing technologies and recycled concrete to address the housing issue in a more sustainable way.
With its SwimCity, as the floating borough has been named, Belatchew Labs, a studio within the architectural company that focuses on experimental projects to investigate and test new approaches solving urban issues, is trying to envision an affordable housing solution for young people that turns underused ports, quays and dock areas into sustainable apartment spaces.

In order to optimize eco-compatibility, the houses will be built utilising recycled concrete, which, as the firm explains, can help to reduce the large carbon footprint caused by waste in the building industry. As per this infographic document, the recycled concrete will replace coarse and fine aggregates, while various by-products such as fly ash, dross from metallurgical processing and micro silica from silicon production will substitute cement.
3D printing will do the rest. The SwimCity project would employ an additive fabrication method similar to that proposed by Tridom, an Israeli start-up we recently covered, and by the team at Barcelona's IAAC University using a Kuka robotic arm to extrude building materials. This would make it easier, cheaper and more efficient to build with the recycled materials thus further improving the overall sustainability of the project.

"The technological development in 3D printed concrete has come very far. With SwimCity we show how the new technology makes it possible for us to create unique buildings which today's prefab industry is not capable of," said Rahel Belatchew Lerdell, CEO and founder of Belatchew Arkitekter.
If the project, which was supported by the Swedish National Board of Housing Building and Planning, were to not work out, we could always choose the complete opposite direction and strive to survive on a desert-ified Planet in the equally stunning Desert Cities project by Luca Curci Architects. 3D printing is not explicitly mentioned here but the geometrical and curve shapes of the structures do somehow imply it, at least to me.