Taiwan develops heat-resistant, food-grade bioplastics
06.02.2014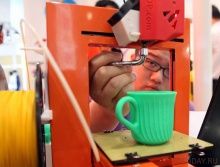 The Industrial Technology Research Institute (ITRI) based in Taiwan has developed a food-grade quality polylactic acid (PLA) material which can resist temperatures up to 100°c without deforming.
PLA is a material commonly used in 3D printing. It is a thermoplastic aliphatic polyester derived from renewable resources – such as corn, tapioca, or sugar cane. PLA materials are completely biodegradable, non-poisonous, and heat-resistant. But it's the level of heat resistance which many researchers – including those at ITRI – have been focusing on in their PLA development.
Typically, PLA loses its form at temperatures around 50°c or above which has prevented its use in tableware and other food-related applications. For the last eight years, the people at ITRI in Taiwan have been working to produce a bioplastic that is heat-resistant up to temperatures of 100°c. The insitute achieved this through the development of a non-toxic nucleating agent which accelerates the crystallization rate of PLA. This accelerated crystallization rate also increases the material's heat-resistance to temperatures up to 100°c.
With their achievement, the insititue joins other companies in having the ablity to produce a PLA suitable for use in tableware and other food-safe containers, bags, cups, and lids. The material may also be useful in non-food applications – like making components for electronic devices. A heat-resistant, food-grade bioplastic is also ideal for 3D printing applications.
With rising oil prices and increasing environmental awareness, Taiwan's ITRI has increased its focus on developing bioplastics to replace traditional plastics made with fossil fuels. ITRI suggest their bioplastic may contribute to a greener future as their PLA is derived from renewable resources and is biodegradable.
Currently, PLA is derived from cereal grains, but the institute also adds that a non-grain formulation using lactic acid is possible which would prevent negative effects in food markets.
According to statistics from ITRI's Industrial Economics and Knowledge Center, around 120,000 metric tons of PLA were consumed globally in 2010 – mostly in Western Europe and North America.
Their statistics show the use of PLA consumption in Asia has also been rising with more PLA being used in packaging materials and biomedicine. Heat-resistant, food-grade bioplastics may have an impact on the future use of PLA in Asia and around the world – perhaps particularly in the world of 3D printing where it will now be possible to 3D print a cup and drink your "tea, Earl Grey, hot."