You have never seen this before: 3D Print Expo 2016 will include spectacular Show of Superheroes!
30.09.2016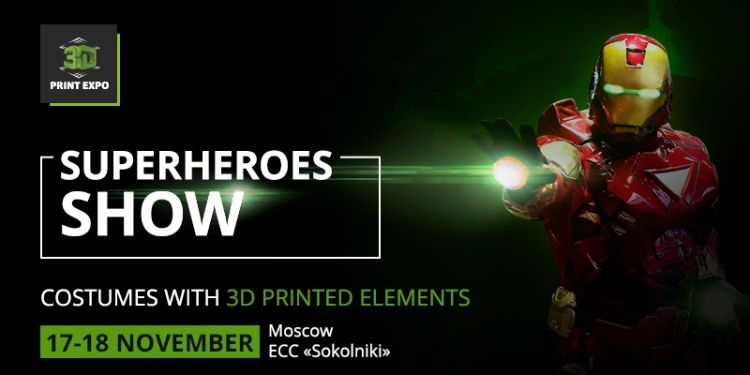 Do you think that impressive characters with fantastic super abilities can be met only in movies, games or on comics' pages? Nope! November 17-18, 2016, the world of alternative Universes will be embodied at Sokolniki ECC, because it is here that the greatest cosplay contest called Show of Superheroes will take place within 3D Print Expo, the largest 3D technology exhibition in the CIS countries!
Only at 3D Print Expo, you will be able to see characters of famous and much-loved fantastic movies and computer games in exclusive costumes designed with 3D printed elements. We will meet:
the best cosplayers ready to the boldest experiments and unimagined innovative images;
leading craft 3D workshops cooperating with the largest fandom communities.
On 18 November the final of the cosplayer contest – show presentation of unique images – will take place on the main stage.
Contest winners will be chosen in two categories:
The best cosplay of 3D Print Expo 2016.
The most technological costume of 3D Print Expo 2016.
Background music and video, offbeat guests from parallel Universes – you have definitely never seen this before!
Event attendees will be able to communicate with each other and take bright photos with all Show of Superheroes participants! And contestants have a chance to get a title of "The best cosplayer" according to 3D Print Expo!
Don't miss a spectacular and epic Show of Superheroes! Come on 17-18 November at Sokolniki ECC to the annual international exhibition of progressive additive technologies – 3D Print Expo 2016.