Tales of 3D Printing and Retail from Russia
11.02.2014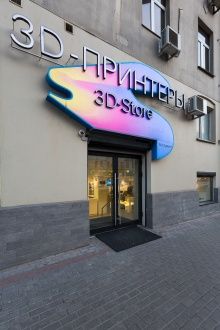 Across Europe, the United States and indeed the entire globe retail outlets for 3D printing products, accessories and services are burgeoning at an increasing rate. Mike has covered a similar story in the Netherlands today while here, you can find out about a new retail outlet set up in Russia with a definite focus on outreach and education about 3D printing in the region.
Important, I think, to state outright that SIU System is an authorized distributor of 3D Systems, but don't switch off quite yet, because this company is going about its reselling business in a different way, like I said, with a friendly, open, outward-facing business model that has an industrial grade focus but also a specific engagement with a much wider audience. This is accomplished courtesy of the full breadth of 3DS products — across 3D printers, 3D scanners and software — such that SIU is offering maintenance and a full list of industrial services, including focused customer support and integration services for 3D printing and scanning in the medical and dental industries.

But beyond that, SIU is open to the general public from a unique (to the region) showroom and retail outlet in Moscow where visitors can see and purchase the full range of equipment or utilize the in-house 3D design, 3D scanning and 3D printing services, with a fast and efficient turn-around. Furthermore, the SIU team is also keen to use the 3D-Store as an information hub for 3D printing — for specific education purposes or just to discuss industry innovations.
Ashkhen Ovsepyan is the CEO of SIU System, and her take on 3D printing developments in Russia is an interesting one that reflects what is happening all around the world:
"Innovation is currently developing at a great pace in Russia, both in industry where 3D printing is emerging as a significant manufacturing technology and in the consumer market where there is growing awareness of the capabilities of 3D printers and the ways in which they can be used. Some indicators of that include the need to open the 3D Store to service the consumer demand of personal-use printers entering retail chain stores, not to mention sales growth. The consumer activity is heavily focused on 3D models — personalized and exclusive items produced by using a 3D printer.

Technology is making its way into the everyday lives of general consumers and Russia is not a pure trend follower but rather an innovator in this space, to a certain degree. On April 20, 2013 SIU System opened the doors of its 3D Store – at that time the first flagship show room in the world, which not only houses a vast range of 3D printers from 3D Systems, but also offers 3D-modelling and printing services. The show room boasts an array of 3D printers for personal use and all the latest 3D printer makes for professional users.
Following suit, in the summer of this year, major Russian retail chain stores have launched sales of Cube and CubeX 3D printers. I believe this is a testament to the rapidly developing 3D printing consumer segment in Russia. The younger Russian generation is actively getting involved in 3D printing, with the Cube frequently featured at various events — general interest and industry-specific alike.

Russian universities and other higher education institutions are also working to help introduce professional 3D printers into their curriculum, in order to give students an opportunity to get hold of the latest technology advances and to apply the knowledge later in their professional lives, similar to their peers in the UK and the US.
In line with what I see here in Russia, analysts are forecasting rapid sales growth of 3D printers here in 2014-2015."
The location of the store in Moscow for anyone looking to visit is 54/1, Prospekt Mira st., Moscow, Russia. And they're not a workshy lot either — opening hours are 7 days a week: Monday to Friday: 10 am until 9 pm and Satuday and Sunday: 10 am until 6 pm.