Tangible Sounds of the City
15.10.2013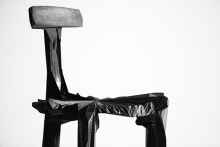 One word best describes the latest design from Estudio Guto Requena – LOUD! In a sense, the city's voices and suburban noise are relived in both the design process and with every look at this creative concept! Check out the video to learn more about the process.

The Noize Chair is the result of a sound experiment where recorded noise from the streets of the designer's native São Paulo, Brazil were digitally applied to the form of a classic chair before being 3D printed.

Just as the voice of person, the noise of every city is unique in each individual case.


This is the reason why there is no two identical chairs in Noize chairs collection from Estudio Guto Requena. San Francisco, Paris, Monaco, Munich, London, Tokyo, Moscow or Kiev - any of the street "voices"can be transformed into creative chair. All you need to do is record noise in a busy area, and send it to design studio Estudio Guto Requena.