This Company 3D Prints Wooden Watches
19.12.2014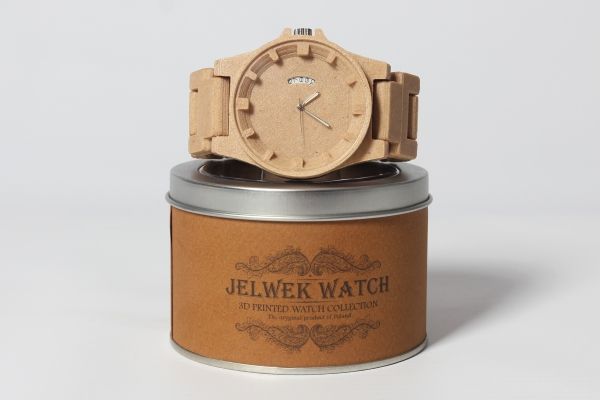 One thing that amazed us earlier this year when we were visiting the 3D Print Canal House project, was the project's section of 3D printed wood.More and more companies are experimenting with the technique, which combines PLA and wood. Despite its not purely natural wood, it looks and smells a lot like wood – we can tell. Right now, a new company is going for 3D printed wood, and prints not just wood, but wooden watches.
Polish 3D printing company Jelwek is currently working on these watches and if we have to believe them, they look and feel just like normal wood. However, Jelwek does also use a combination of PLA and wood. It takes them only five hours to get a watch printed. More specifically, there's a total of three hours printing time and an additional two hours to assemble the parts and complete the watches.

The project is also presented as 'eco-friendly', but that is only partly true. Wood printing is relatively eco-ish, but PLA as a material is far from being a natural material. Nevertheless, wood printing is an interesting technique and it's more eco-friendly than regular plastic printing techniques, which does turn it into a relatively eco-friendly technique.

The team is currently running an Indiegogo campaign to get their business started. They need a total of 4,500 dollars and people can donate by buying a watch for 120 dollars. The Indiegogo campaign runs until January 20.

Jelwek is not the first company to create wood watches. LA-based company WeWOOD does the same, but they don't manufacture them with 3D printing techniques.