Tinkerer creates playable Tetris t-shirt
16.07.2014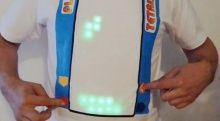 Game enthusiast Marc Kerger loves the childhood game Tetris so much, he created a playable Tetris t-shirt to celebrate the 30th anniversary of the Tetris video game on Jun 6.
The Luxembourg-based tinkerer says the shirt uses 128 LEDs, an Arduino Uno microcontroller board, a housing made on a 3D printer, a soft material for the buttons and two Adafruit Matrix controllers. The game is powered by four rechargeable AA batteries.
Then Kerger designed a t-shirt to house the hardware components.
"I always wanted a playable t-shirt, well now I made one myself," Kerger said.
Kerger has uploaded a video showing him playing the game in real-time. After one level is finished, level number and score will be displayed on the shirt's screen. There is no instructions on how to make your own, but you can check out a similar Instructables project that Kerger based his design on here.