Top 10 free 3D modeling software of 2019
25.07.2019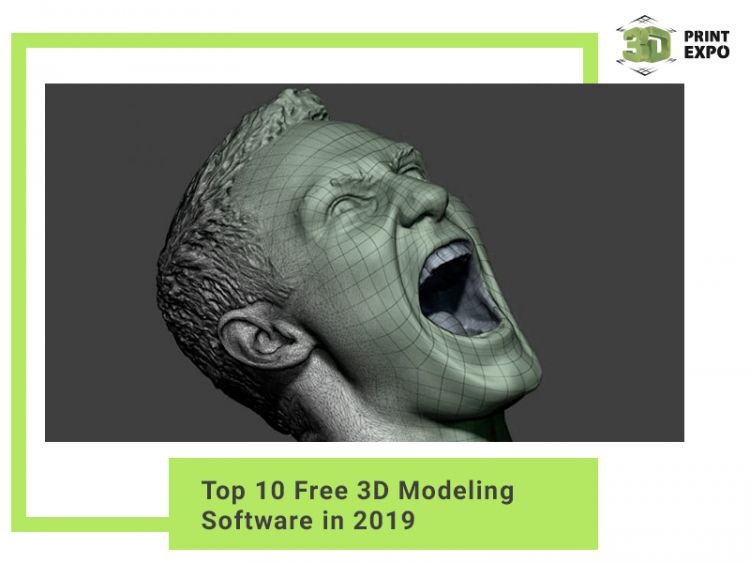 3D modeling is applied for numerous purposes: it allows to create computer graphics and realistic video games, conduct testing, and design prototypes. Year by year, 3D modelers become increasingly in-demand. So, where to obtain such a piece of knowledge?
We have selected the top 10 free programs with 2019's relevant tools, which will help you to practice in developing 3D models.
3D Slash is a 3D modeling tool for creating models using a simple concept of building blocks.
This service is much easier than its analogs: users design three-dimensional constructions, working on a cuboid with a variety of 3D modeling tools: Hammer, Trowel, Chisel, Wall, and Drill. The model creating process in 3D Slash is somewhat similar to Minecraft. Tree-dimensional design using above-mentioned tools will have no difficulty even for beginners. 3D projects can be imported and changed.
However, take into account that tools will by default result in pixelated prints. If you prefer sharp edges and smooth surfaces, choose tool sizes lower than the resolution of your printer.
LibreCAD is an open source free software for 3D modeling. It contains core tools required to model and modify projects. With the LibreCAD user interface being not overloaded, this 3D modeling software will be suitable for newcomers.

It is worth noting that this service displays only 2D views, thus the primary file size will be only 30 MB. Besides 2D, the service can display isometric views.

Meshmixer 3.0 is a program allowing to design 3D prototypes by combining several models. Users can cut required parts out of the models and paste them into others.
Moreover, the software allows to create sculptures and prepare your own prototypes for printing. It is available for Windows and OS X.
SculptGL is an excellent option for those desiring to explore the development of organic 3D structures. The whole model building process in this program looks like clay modeling.
Applying dynamic topology modifiers, you can divide a 3D pattern in order to make more complex details, while the basic mesh import will significantly save your time.
The software is based on WebGL and is available in the majority of browsers. It has limited functionality: only a couple of brushes simulating real sculpturing tools. But in this case, it is rather an advantage than a disadvantage.
AutoDesk 123D with a user-friendly interface offers a lot of tools for 3D modeling and automatic designing. It supports 3D printing and laser cutting technologies. The software is compatible with Windows, MacOS X, and iOS.

Houdini Apprentice is a free version of Houdini FX with fewer tools. It is aimed at artists, students, and amateurs creating three-dimensional models. Due to a user-friendly interface, Houdini Apprentice will also be useful to beginning 3D designers.

TinkerCAD is a software allowing to create complicated designs without great efforts. Recently, the team of TinkerCAD developers has added an ability to design objects using Codeblocks, enabling more technical parametric modeling. Therefore, the quality of 3D models won't highly depend on how well you wield a mouse and keyboard.
Wings 3D is a modeling program with plenty of tools for realistic prototypes. It allows to texture models with the built-in AutoUV tool.

The software does not support animation and provides a single render – OpenGl, thus it is often applied along with other programs. Wings 3D is based on the Erlang programming language and is available for Windows, Linux, and MacOS X.
This free software consists of various common tools for CAD modeling, but newbies will fail to cope with them. A user interface is definitely inspired by AutoCAD. That's why DesignSpark will be a good alternative for 3D modelers who would like to use this program but could not afford it.
Although key features of this software are free, the publisher charges a fee for additional options such as extended import/export parameters and rendering.

Like some other programs, DesignSpark can be connected to online services. In particular, it allows to load 3D models directly into the CAD free software as well as print out and send projects via email.
FreeCAD is a free software for 3D modeling real objects of any size. Parametric modeling in this software helps to easily modify 3D design.
FreeCAD has an open source code and can be additionally adjusted. It is based on Python. So, if you know this language, you will be able to use the software for developing and implementing new features. The service also offers a module architecture, allowing to connect plug-ins to the main app.