Top 5 3D Printing Startups Raising Multimillion-Dollar Investments
11.07.2019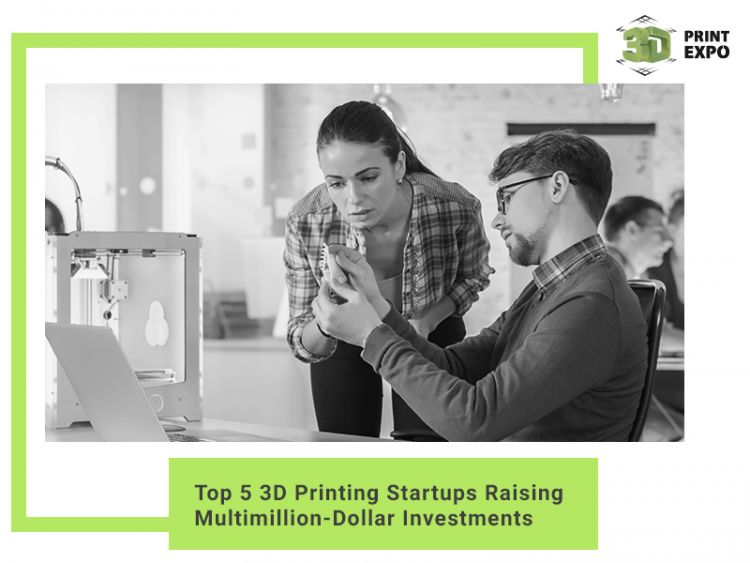 According to forecasts of Frost & Sullivan, the global volume of the additive technology market will increase from $5.31 billion in 2018 to $21.5 billion in 2025. Analysts believe that 3D printing will be used in automotive engineering, architecture, manufacturing, healthcare, and other sectors by that time.
One of the evidence for the rapid growth of the 3D printing market is the establishment and successful operation of startups developing and applying 3D technologies. Let's review the top 5 companies that have managed to win the acknowledgment and to raise multimillion-dollar investments.
Desktop Metal
Professors from the Massachusetts Institute of Technology founded Desktop Metal in 2015. They designed a printer processing metal alloys (aluminum, chrome-plated steel, copper, bronze, titanium, etc.) and adhesive polymer. The company assures that its technologies will make 3D printing 100 times faster and 10 times cheaper.
Now, the startup is developing and selling metal 3D printing systems. Its first two products were brought into circulation in 2017: Studio System 3D printer for engineers and small enterprises and Production System for manufacturers and large-scale printing. A single automated workstation with a 3D printer and required software costs $120,000. The company is going to release the first 3D printer for mass production in 2019.
Desktop Metal was estimated at $1.5 billion as of January 2019. Since its foundation, the startup has raised $438 million. Its investors include such major companies as Ford, BMW, and Google Ventures.
Formlabs
Formlabs was founded by three MIT Media Lab students in 2011. The startup offers a complex system of 3D printing using various methods. It produces a range of 3D printers, high-accuracy polymers, and 3D printing software.
The company is known for collecting almost $3 million using the Kickstarter crowdfunding platform to make Form 1 3D printers in 2012. This kind of equipment prints objects by the stereolithography technique.
Company's printers are used to create jewelry, prostheses, braces, implants, and other stuff. Formlabs devices allow to produce details of different complexity, i.a. to print fine-grained patterns.
Formlabs is estimated at more than $1 billion. The company has attracted $103.7 million over the years of its existence.
Kwambio
Kwambio is a startup from Odesa (Ukraine) founded in 2014. It focuses on 3D printers and ceramic components.
Ukrainian specialists have developed the Ceramo One 3D printer that makes goods of any complexity using ceramic powder and special glue: kitchenware, interior objects, production prototypes. Such ceramic products are more solid and lighter than their conventional analogs. They can sustain the thermal shock of up to 2000 °C. A piece of equipment costs $45,000.
The company also offers a desktop printer for producing ceramics. It is a reduced copy of Ceramo One cost $5000.
Kwambio's customers: Stanley Black & Decker, General Electric, Airbus, and others. Tesla and NASA were also interested in the company's goods.
The company introduced the ADAM project in 2019. As part of its implementation, Kwambio and partners are developing the technology of printing human bones on a 3D printer. Moreover, they are designing a platform for creating the virtual body atlas out of 3D scans, CT and MRT images. Specialists also have developed new biomaterials: ceramic bioglass and upgraded biological polymer.
Kwambio obtained $2 million of foreign investments.
Apis Cor
The startup was founded in 2015 in Irkutsk (Russia). Apis Cor has invented a specialized construction 3D printer that can print a building with a total area of 37 sq. m. in 24 hours.
The printer is portable and can be relocated from one place to another if necessary. It prints a leave-in-place form for house footing, reinforced concrete framing, self-sustaining walls, and portable room dividers. A concrete blend used in construction can serve up to 175 years. All housing components are designed on-site.
The first house was built using the 3D printer in 2017 near Moscow. This construction cost 594,000 RUB.
In 2017, the Rusnano Sistema Sicar fund investedapproximately $6 million (precise figures were not disclosed) in Apis Cor. In 2018, the startup left the Russian market and entered the US one.
OxSyBio
A London-based startup, OxSyBio, was founded in 2014 by scientists from the University of Oxford. It is aimed at producing living tissues using 3D technologies, which can be used in healthcare to recover or replace organs.
The company states that its goods are three-dimensional high-resolution synthetic tissues designed using a special 3D printing platform adapted to create mammal living cells.
Such a method has the following concept: cells are placed into protected nanoliter droplets with lipid cover. Therefore, they can be overlapped layer by layer, creating a tissue structure.
The startup raised $12.8 million only in 2018. In total, OxSyBio gained about $14 million of investments.