Turn Your Kid's 2D Artwork into 3D Creations with 3D Printing
12.12.2014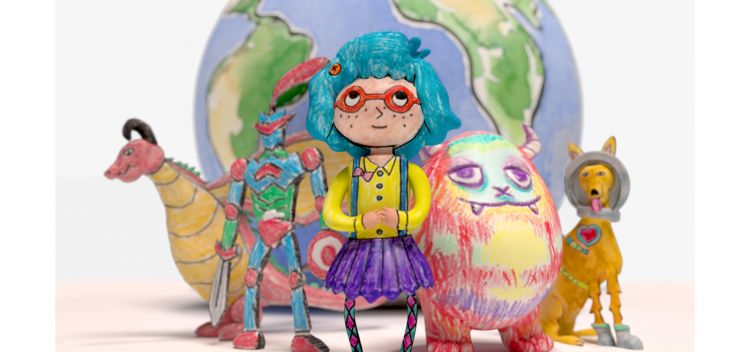 Kids Creation Station is a new startup that offers to take the colorful drawings of your children and turn them into 3D printed three-dimensional models. Each 3D statue is shipped with a collapsible diorama with a full-color background insert.
I was a prolific artist growing up and our refrigerator was known as "The Gallery" due to the mass of scribbled superhero battles and monster pictures that papered it. While I have a very few select pieces of art from those years, most of them have been lost to time. You can't imagine what I would give to have some of those pieces of artwork immortalized as statues. Thankfully, 3D printing has given me the option to immortalize my nephews' artwork as a keepsake that they could pass down to their own children using the Kids Creation Station service.
The process is very simple. Just register an account, download the Android app, and then upload a picture of the piece of artwork that you want to 3D print to your personal library. Within a few weeks you'll receive a full-color 3D version of the artwork shipped to you. Each statue includes a special plastic display case with a colorful diorama insert that you can choose. Options include castles, enchanted forests, schoolyards or a selection of solid color backgrounds. Currentl,y there are about twenty dioramas available, but as the community grows those options should increase.

With 3D Systems/ZCorp technology, each statue is 3D printed in a gypsum powder material that is deposited layer by layer with color applied using standard ink jets and the whole thing held together with a binding agent. Once the model has been cleaned, it is sealed with a cyanoacrylate coating – similar to super glue – which will preserve the color and add durability.
Here are a few examples of the 3D models:
#20 - Fuzzy Monster от Kids Creation Station на Sketchfab
#40 - Castle in the Clouds от Kids Creation Station на Sketchfab
Each model is about four inches tall and intended to be entirely decorative. As much as your kids may try, it probably isn't a good idea to let them use it as a toy. The models are not waterproof and they will start to degrade if they get wet. Your first statue costs $100 and each additional print will cost an additional $60. Turnaround is about four weeks, and shipping costs $10 per shipping destination.
You can see several more examples of the 3D models over on the Kids Creation Station profile on Sketchfab, and you can get more information about creating your own statues on their website.