Ultimaker Launches 3D Printed Dress
11.03.2014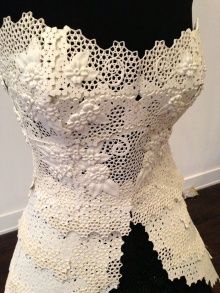 This February XYZ Workshop in collaboration with Ultimaker will be presenting our 2nd 3D fashion design on the runway in NEW YORK 3D Printshow! Ultimaker had approached us following our win in Singapore to help them create a new dress for them to exhibit in the 2014 3D Printshow in New York.
The piece could possibly be the longest 3d printed dress ever printed on a desktop 3d printer. Comprising of 191 #3dprinted panels took 450hrs and 25mins to print, 240m of flexible filament, weighing at around 1.7kg and measuring a total of 2.1m long (7 ft).
We're honoured to be presenting with leading 3D designers like Francis Bitonti Studio, Hannah Soukup, Joshua Harker: Artist, threeASFOUR, Nervous System just to name a few.