Get straight from the horse's mouth at 3D Print Expo 2016 how Russia printed tower from Game of Thrones
02.11.2016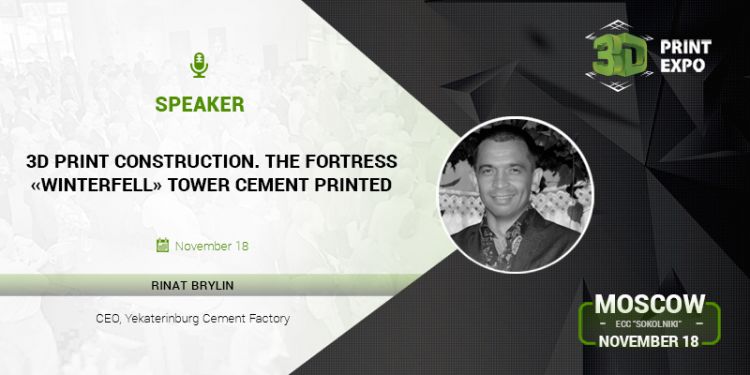 Recently, CEO of Yekaterinburg Cement Factory has shown the opportunities of a construction 3D printer: led by Rinat Brylin, the team has rinted the tower of Stark's majestic family fortress from the Game of Thrones serial on the corporate premises. The CEO of the factory will tell how the unique construction has been built at 3D Print Expo 2016. Rinat will speak on November 18 within the block called "Application of 3D printing in architecture and construction".
The annual 3D Print Expo 2016 event will take place in Moscow on November 17-18. At the second day, participants will discuss practical application of additive technologies. The conference will be divided into thematic blocks. The first one will be a block dedicated to innovative 3D construction.
Perhaps, according to the author of A Song of Ice and Fire, the Winterfell tower was constructed by horny and red hands of hundreds of Stark's house servants, but nowadays it was constructed by 3D printer under supervision of only three workers in Yekaterinburg Cement Factory. Besides, one of them was the software operator who was responsible for uninterrupted concrete running for layer growth of tower walls. According to Rinat Brylin, the unique watchtower will be a security service room.
The elegant historic style building has become a visiting card of the cement factory, proving that it has power equipment for creating 3D printed constructions. It's important to stress that the tower has several picturesque elements, which can't be created using traditional methods.
Rinat Brylin will tell in detail how the Winterfell watchtower has been constructed and what advantages 3D printing offers for building business at 3D Print Expo 2016 conference. Come on November 17-18 to Sokolniki ECC and you will find out how one will construct unique architecture masterpieces in the nearest future. Registration to the event: http://3d-expo.ru/en/register.