What will Exhibition of Advanced Technologies 3D Print Expo delight and amaze with?
04.08.2014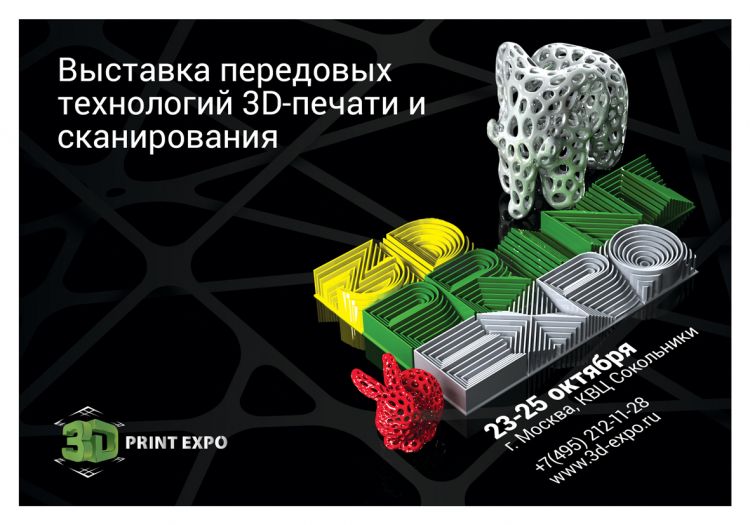 October 23-25, 2014, Moscow ECC "Sokolniki" will host exhibition that will reveal all the secrets of the future technology - a three-dimensional printing.
Scientists, developers, suppliers, and everybody who wants to get to know more about 3D printing – hurry up to become a participant of 3D Print Expo!
In the short term we should expect a real boom of 3D printing. Today it has evolved in many areas. 3D bioprinter is used in medicine to print organs, and using 3D printer in architecture one can even create a house. Students and schoolchildren use three-dimensional printing to print the models they have designed themselves, jewelers print masterpiece jewelry. Soon 3D printer will be indispensable for any production and in every home.
Hurry up to be the first to learn how today three-dimensional printing can increase your company's profits, and how it can be used at home! 3D Print Expo program is designed especially for it!
The event will be held for three days, and each of them has its own rich program. October 23 is scheduled as a business day, October 24 and 25 days will be the days for visitors.
Visiting BUSINESS DAY will be of interest for business audiences, professionals and businessmen, as well as investors.
During the Business Day we will speak about:
• Evolution of three-dimensional printing in medicine, architecture, education, jewelry art.
• Ways to attract new customers through the use of three-dimensional printing technology.
• What to do to close major deals and make greater profits using 3D printer.
• Industrial 3D printing and its spheres of application.
• Legal aspects of three-dimensional printing.
Also as part of the business day a round table will be held where participants will discuss the prospects of additive manufacturing.
DURING THE VISITORS DAYS exhibition will open its doors for everybody who is interested in 3D printing technology.
Exhibition visitors will see:
• How a model created on a computer becomes real in a matter of minutes.
• How easy and affordable it is to use a 3D printer.
• Personal 3D printers that can create everything: from toys to jewelry.

Visitors can also take part in workshops on 3D printing.
In addition, everybody will enjoy a spectacular show - "Chocolate Festival"!
Here you can find out how 3D printer can be useful to owners of pastry shops, as well as how to interest a client, if properly present the advantages of chocolate printing, and whether adults and children will have a chance to taste traditional and printed chocolate treats, and compare what is better and tastier!
Join 3D Print Expo, registration for the event is live now. You can already purchase tickets on the website where their cost will be lower than at the box office! Watch the news on the website to be the first to get to know what other surprises await for conference participants!

More information:
www.3d-expo.ru
tel.: +7 (495) 212-11-28
e-mail: [email protected]