When Museum Visitors Become The Actual Exhibit
17.10.2013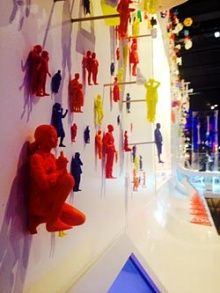 It sounds like an episode from the Twilight Zone, but it is really happening at the London Science Museum. Last week the Museum opened its doors to 150 3D printed miniature models of museum visitors. The 3D printed figurines, produced using Stratasys FDM-based 3D Printers, are among the exhibits at the museum's first '3D: Printing the Future" display.
The statuettes were created from head to toe scans of visitors who took part in 3D scanning workshops run at the Museum by Digital Native Academy throughout August.
The scanned files were 3D printed using Stratasys' ABS Plus material in a range of colors by Stratasys UK distributor Laser Lines Ltd. The finished figurines range in size from 5cm to 20cm tall, large enough to identify the visitor but small enough to fit in your hand comfortably.

Miniature Visitors: 150 Stratasys 3D printed figurines of London Science Museum visitors.
New 3D Printing exhibit at the London Science Museum helps visitors explore the world of 3D printing
Visitors Experience 3D Printing
The new exhibit features the latest technology and processes involved in 3D printing, from 3D scans to the production of 3D printed models, and their applications in a variety of industries including art & fashion, architecture and manufacturing. In total, the exhibit features 700 3D printed objects produced by a range of materials including nylon, titanium, sandstone, and many more.
'Pneuma 2′ designed by Prof. Neri Oxman and produced using Stratasys unique multi-material 3D printing technology
3D Printing Organic Like Shapes
Exploring the endless possibilities of 3D printing, the exhibit includes 'Pneuma 2,' a stunning 3D printed sculpture inspired by the human lung, designed by the widely acclaimed professor, designer and architect Neri Oxman. The intricate piece, 3D printed on the Objet Connex500 multi-material 3D Printer, combines a cellular spongy structural pattern with a dotted geometrical pattern.
The exhibit, which is free, runs until February 10th 2014. If you are in the UK, this is definitely worth a visit.