Winners of Vancouver Startup launching ConceptKicker - 2D art to 3D printed figures
02.12.2014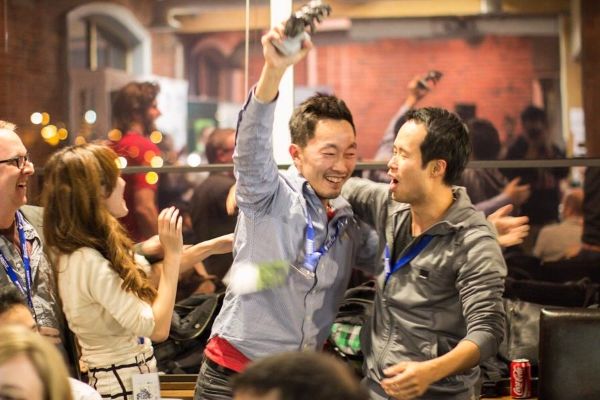 After winning the Google-sponsored Startup Weekend Vancouver this November, team ConceptKicker.cois now competing in the world's largest business startup competition: Global Startup Battle.
In 54 hours, entrepreneur and Kwantlen Polytechnic University (KPU) business alumnus Denny Hollick and his team designed and built a platform that allows artists to transform their 2D character concept art into 3D printed figures. They were declared the winner of Vancouver's Startup Weekend after pitching their ideas to a crowd of over 125 coders, designers and business gurus.

Every artist's dream is to have their art come to real life and be able to share & sell it. But the challenges are producing the real models are too costly and complicated and artists face the risk of not know which designs their fans will like to buy.
Conceptkicker is the world's first one-stop-shop platform that empowers artists to transform their work into real-life models to sell to fans on a crowdfunding platform.
Artists upload their 2D work and have fans back the project. Fans crowd-fund to purchase these designs as a real model at reasonable prices. Once the campaign reaches the target goal, ConceptKicker converts e concept art to 3D model, sources a 3D printer, prints it, and ships it to fans. ConceptKicker will split the profits with the artist 50/50 which leaves a healthy gross margin of 29%.

The experience is simple and risk-free for the artist. "We do the work so that the artists can focus on what they do best, creating the design." notes the team.
"We hope that we can revolutionize the art world the same way that Airbnb and Uber are revolutionizing the hotel and taxi industry," said Hollick, co-founder of ConceptKicker. "We want to connect artists directly with their customers."

A 2D artist without 3D printing or modeling means, Hollick's co-founder Tony Yang saw the idea as an opportunity to ease his own pain, and help other artists navigate an extremely difficult, time-consuming and risky process.
"My vision for ConceptKicker is a service that can fully satisfy my needs as an artist," said Yang. "It's a place where we share artwork, see it come to life and get it directly into the hands of our fans."
With their first-place win at Startup Weekend Vancouver, the team earned free incorporation and legal fees, $3,000 in accounting services and many more key startup tools. The startup has also garnered the support of several famous concept artists and gaming companies, who have agreed to get their concepts onto the platform. "I created a 3D model and it was a huge showing by my fans," said Arman Akopian, a popular concept artist for games like Tomb Raider. "I think the idea will be a huge success."
ConceptKicker's next challenge is competing in the Global Startup Battle, which is being judged by world-renowned entrepreneurs including Shark Tank's Daymond John, recording artist Nas and award-winning Canadian entrepreneur Dan Martell. Finalists are selected through a 50-50 combo of voting by judges and the public. Online public voting began Nov. 26 and closes Dec. 3.
In the coming month, they will launch thier concept with a diverse portfolio of famous contributing concept artists.