World's first 3D printed men's accessories collection
06.12.2013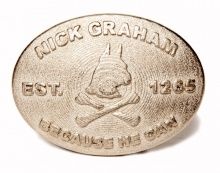 Nick Graham, founder of Joe Boxer, and Shapeways, the world's leading 3D Printing marketplace and community, announced today the launch of the world's first 3D printed men's accessories collection. The collection is part of Graham's first self-named line of men's apparel and accessories. The full range of 3D-designed and produced accessories, including tie pins, bracelets, and belt buckles, will be printed on-demand by Shapeways in polished nickel steel, polished gold steel and matte black steel. Graham designed the collection with Kostika Spaho, one of the leading 3D designers in America.

Naming the first collection "New York," Graham defines his styling as 'Post Prep.' "New York" includes graphic-print woven shirts, polo shirts, neckwear, tee shirts, underwear, and 3D-printed jewelry -- all reflecting Graham's well-known sensibility of fun, style and irony.

Retail prices of the collection range from $65-$275. It will be distributed through nickgraham.com and a Nick Graham shop on shapeways.com.