You can now 3D print you own 'Apple iPhone 6' for $25
13.05.2014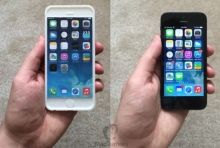 Want to know what the big-screened iPhone 6 might be like to hold in your hand? You just need to download the 3D printer plans made by designer Martin Hajek to print out your own mockup at home.
According to Mr Hajek, the designer behind many great mockups of Apple products over the years, his design is based on the leaked concept published by Japanese magazine MacFan in late March.
Hajek is selling his own set of 3D files for the 4.7-inch iPhone 6 model via TurboSquid, priced at $25. Users can download an .STL file for 3D printing as well as .3DS and .OBJ files for 3D modeling software.
Over the past several weeks, a number of cases and mockups for the iPhone 6 model has been published online. Website
MacRumors
has shared photos of a case and 3D-printed physical mockup of the iPhone 6, also based on alleged design drawings from MacFan. 3D printed mockup was not printed in high resolution, but it gives you an idea how it looks like when compared with iPhone's other models.




MacFan says it will continue to refine their own model and may freely release those 3D files in the future. But just be aware, these mockups are all based on the leaked design drawings, so they may or may not be accurate. Regardless, they do give you a good look at what Apple may come up later on this year.