Jewelry: why 3D printing can be useful to jewelry producers
09.10.2018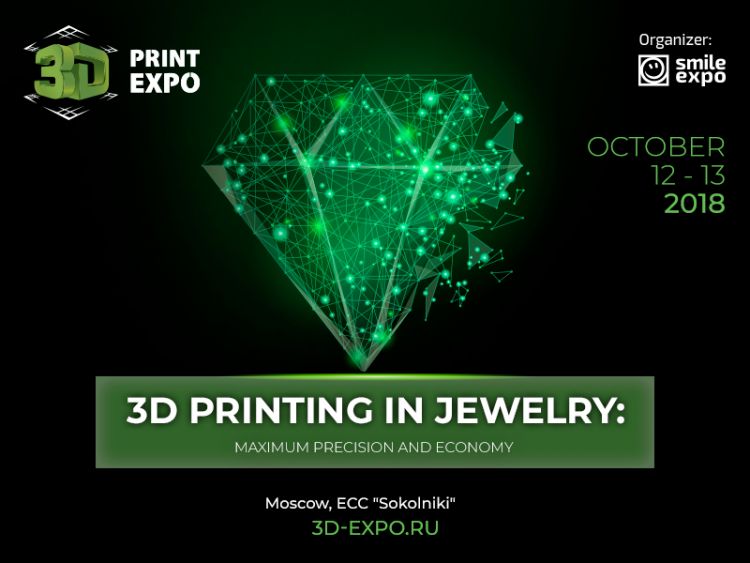 Additive technologies are successfully applied not only for fast and cost-efficient production in such sectors as manufacturing, aircraft engineering, healthcare, and cookery. Modern 3D printers are also used by professional jewelers who can create jewelry of any complexity due to new devices and technologies.


Advantages of three-dimensional printing for jewelers
3D printing devices are able to conduct extremely precise work: accurate and delicate. Additive technologies allow craftsmen to make both end products and their master models (in order to assess all possible gaps before completing a piece of jewelry or a form for molding).
Additive technologies provide jewelers with the following advantages:
The work is executed quicker (cutting, soldering, and rolling stages are eliminated).
Materials are saved (one can precisely calculate their amount and produce jewelry almost without waste).
There is a possibility to improve an item without losses (master models show disadvantages that can be removed before printing a finished product).
A three-dimensional printer reproduces the most complex and bizarre geometrical forms.

3D printing of jewelry products and patterns are conducted using plastics and powder metal (gold, silver, steel). Off-the-shelf jewelry items are made by melting and selective laser sintering. Although devices and materials are expensive (the price of a popular printer Solidscape starts from 1.5 million RUB), additive technologies allow to save money during serial production. At least, because unused materials are kept up to a milligram.


Modern 3D printing solutions for jewelry
3D printing market offers various types of devices for producing jewelry: low-budget and expensive, for printing using one or different materials. Their cost will depend on their features.
For example, a printer Perfactory Xeed is relatively inexpensive. It can print models and ready-made items at a high speed. The main feature of the printer is that it utilizes a LED source to create models, which allows to make it as accurate as possible. The device price starts from 400 000 RUB.

At the same time, DigitalWax printers with a unique pallet-moving system will cost 4.5 million RUB. They are extremely quick and long-lived.



Who use them
LACE was the first brand to start applying additive technologies in jewelry. Its founder, Jenny Wu, believes that 3D printing prototyping will save money most of all. By the way, LACE jewelry are made not only using precious metals, but also more exotic materials such as nylon.

Jaubalet (France) and American Pearl (the USA) also apply additive technologies in their operations.
Not only powder metals and polymers can be used to print jewelry. Swarovski crystals are applied as well. For instance, Japan-based Project TAKT has printed cut glass vases using these stones.
At the same time, Autodesk Research has invented Exoskin, a 3D printing technology allowing to design pieces of jewelry right on the skin. It allows to lay on a special sketch, model it, and make it volume. It guarantees that an item will maximally comfortable to wear.


Conclusion
Due to prototyping using 3D technologies, even a small jewelry company is able to enter the large market. 3D printing allows to implement the boldest projects and create a perfect model of jewelry. A final product can be ordered in the 3D printing service bureau (following the example of LACE, which items are worn by Hollywood stars).
Additive technologies allow to comprehensively take an individual approach to each customer, model customized products, and make them promptly (2-3 weeks along with the delivery). Moreover, anyone can set up their own business using three-dimensional printing: modern printers are multi-purpose, take up minimum space, and can be used even at home.