Zortrax 3D Prints an Entire Coffee Table 'KARO' from Their M200 Desktop 3D Printer
04.12.2014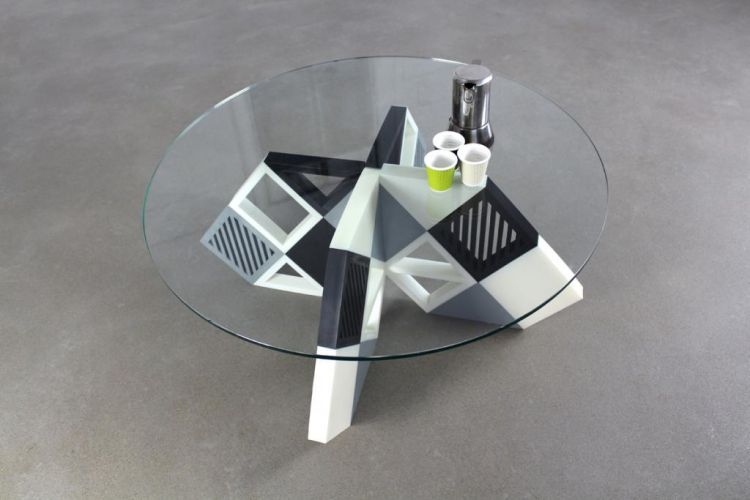 Desktop 3D printing, at this time is far from upending markets. Printers like the MakerBot Replicator 2,Zortrax M200 and others are not exactly replacing the affordability and quality of mass manufacturing just yet. For now, the majority of [t] items we see are tiny trinkets, toys, prototypes, and small functioning parts. The ability to print such objects certainly hasn't hurt many, if any, industry's bottom lines.
Taking that into account, though, things are in fact changing. The availability of complicated designs via 3D modeling, combined with the higher quality 3D printers coming our way, and the sophisticated software that can stitch it all together, is slowly pushing us towards a day when manufacturers begin feeling the effects.
Furniture is not particularly an industry we would think would see any major impact from progress being made on the 3D printing front. With that said, Poland-based 3D printer manufacturer Zortrax has decided to show us all just how easily furniture manufacturing could shift from traditional methods towards additive manufacturing. Today they've introduced their KARO 3D printed coffee table.
The table, which is constructed out of several triangular and diamond-shaped modules, was entirely 3D printed on the Zortrax M200 3D printer.
"The table shows how 3D technology enters the world of design and fills it with possibilities," noted Olga Bojarska, Copywriter for Zortrax.

The piece itself was printed in several sections, using Zortrax's Z-ULTRAT Pure Black, Cool Grey and Ivory filaments. In total it took 262 hours and 32 minutes to complete, and used 3,171 grams of filament. The glass which was placed on top of the 3D printed base weighs approximately 7 kg.
When complete, Zortrax placed the table inside a rustic-style home which had been painted primarily white. It fits in quite well, as you can see from the photos below. Because of the thermoplastic material it's constructed with, the table could be used as an indoor or outdoor piece of furniture.

Certainly most individuals are not going to spend over 11 days printing something like this out; however, as printing speeds continue to push forward, filament prices decline, and new designs emerge, we may be closer to the mainstream 3D printing of furniture than even I had imagined.