2013 Results: 3D printing
04.01.2014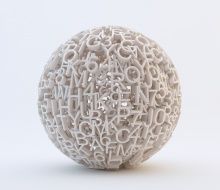 This year there was a real boom of design projects with usage of 3D printers that can create miracles. Designers actively enjoyed the fruits of technological progress, materializing the most unbelievable projects, from underwear and jewelry to ready homes. Summarizing, we have chosen the most beautiful of them.

1. Using 3D printer artist Sebastian Errazuriz has created a collection of women's shoes in memory of his former flames, a pair of shoes for each love story. 12 Shoes for 12 Lovers represent the most important in each woman of artist, at this shoes cannot be used for immediate purpose (walking in them is not too comfortable), but they have become the object of art.

2. Another collaboration of fashion designer Iris van Herpen and legendary architect Rem Koolhaas resulted in creation of shoes, its design inspired by millennial roots of trees. Project was carried out using 3D printer.

3. At the same time Finn Janne Kuttanen, pioneer of 3D printing and creative director of 3D Systems, suggested that girls could renew their wardrobe every day, literally overnight, printing a new pair of shoes made ​​of plastic on a portable 3D printer. Designer believes that very soon home 3D printers will be everyday reality, and until then everyone can order sandals of CubeX Shoes collection online; it takes only 6 hours to print the shoes. Convenience of shoes is very doubtful, but these are only the first steps towards consumer revolution, which will result in us being able to print whatever we want, even food. This is what Janne Kuttanen is working now at.

4. Young Architects from Los Angeles are interested in aesthetic aspect more than in consumer revolutions - using 3D printer Kyle and Liz Hasseln, The Sugar Lab, make abstract sculptures from sugar to decorate wedding cakes and much more. Generally these are complex geometric structures, which one can look at for hours, but shall not touch - even easy touch will instantly turn these figures into sweet dust.

5. London architect Daniel Vidrig created something in between decoration and clothing called Kinesis collection. Artist made these wearable sculptures in an attempt to understand limitless possibilities of 3D modeling and printing. Skeletal object is based on 3D scan of the body of person who will be wearing it. So whatever it was, it fits perfectly.

6. Combining the first letters of two names in 3D pendant studio Ultravirgo makes 3D monograms to individual order. Obtained effectively and inexpensively - Jewelry made ​​of silver or stainless steel.


7. 3D printing provides limitless opportunities for fashion designers, who immediately rushed to implement their wildest fantasies that previously were technically impossible. During the summer master class on new methods of design and use of modern technologies American Francis Bitonti and his students created Verlan Dress using 3D printer.
Jointly with Michael Schmidt Brooklyn studio of Francis Bitonto created another dress - evening dress Dita's Gown for Dita Von Teese made of flexible plastic "fabric"; queen of burlesque was wearing the dress at the opening of new New York hotel.

8. Using basic laws of kinetics American design studio Nervous System, engaged in 3D printing for several years, created jewelry of jointed small units, modeled and printed using 3D printer.

9. This year even manufacturers of such seemingly traditional innerwear as underwear decided to experiment with modern technology: during the final show one of angels of legendary brand Victoria's Secret was wearing lace dress 3D costume of Snow Maiden. Shimmering under the lights finest lace is made of interconnected tiny fractals, hundreds of snowflakes that lightly cover nudity of the model.

10. Brazilians Estudio Guto Requena turned a sound into reality. Their Noize chairs is the noise of the city, sounds of mobile phones on the streets of Sao Paulo, loaded into a computer program that transforms them into a visual relief, and printed on 3D printer.

11. Ivan Sentch always loved expensive rare cars but could not afford them. With the advent of 3D printer his life has changed – now there is a 1961Aston Martin DB4 in his garage. By now it's just a model; it is not yet on track and far from perfect. But Ivan Sentch is not getting upset, he continues to work and is sure that soon 3D printers will be able to fulfill any fantasies and dreams.

12. Not only designers, fashion designers and jewelers are interested in industrial 3D printing. Architects also see a great potential in the new way of objects materialization. For example, within the next year Dutch architectural office of Janjaap Ruijssenaars Universe Architecture plans to implement a project called The Landscape House - the world's first residential building, constructed using 3D printing technology. Building printer literally prints three dimensional blocks specified by the program straight on construction site.