3D jewelry from Mixee Labs
29.11.2013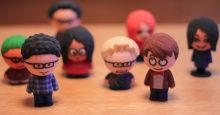 As you know, modern devices for 3D printing are used not only in production sector, but also in art, including jewelry. Using 3D printer, jewelers can decrease time needed for manufacture of their products. Using device for three-dimensional printing one can make molds for jewelry products in a short time.Use of this technology is becoming increasingly popular among jewelers, as it significantly simplifies working process. Jewelry 3D printer can create nearly perfect prototype, which can be reused in work.

This fall, American company Mixee Labs has launched a new collection of 3D printed molecular jewelry. Users have the opportunity to choose from the list of molecular structures developed by Aaron Barnett or use a database of molecular structures to print jewelry on their own.
These 3D accessories are printed using various materials. Clients, interested in purchase, can choose the material for their piece of jewelry - nylon plastic, stainless steel, silver or talmi gold. Changing atom density, you can add your own ideas to model design.
When it comes to the cost of these pieces of 3D jewelry, it depends on the material chosen. The cheapest product will be one of nylon plastic - $ 10 and more; stainless steel jewelry can cost about $ 60, and silver or talmi gold will cost over $ 160. For experts from Mixee Labs it takes about 2-3 weeks to produce jewelry.

You can learn more about jewelry 3D printer, and ways to use three-dimensional printing technology in business at thematic exhibition dedicated to emerging technology of three-dimensional printing - 3D Print Expo to be held February 13-14, 2014, in ECC "Sokolniki" (Moscow).