3D Print Artist Of The Year: Isaie Bloch
18.11.2013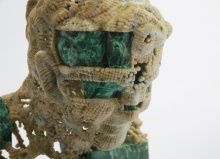 Artist Isaie Bloch has won this year's coveted 3D Printshow Artist Of The Year Award. Isaie's technology of choice is Autodesk's 3DS Max and the opensource 3D mesh processing wonder that is Meshlab. Isaie works with a material preference for textured 3D printed full colour sandstone. His submitted piece for the award nomination was 3D printed by imaterialise. The artist aloso has a range of work at 3D printing service provider Shapeways.
Isaie stated for the 3D Printshow nomination: "There is a long tradition of artists making works 'after' the works of their fore-bears. Although utilising advanced, technological tools (e.g. 3D software / 3D printing), I am, in a way, working within that great tradition. I do not feel, however, that this project owes much to 'appropriation' and those contemporary artists whose works have been labelled as such. I am searching for a way to make something equally revolutionary. I have set for myself the task of creating a new sculpture that is 'technically unachievable by artisanal methods' and 'more perfect' than the original Grecian Satyr bust – an icon of Roman and Greek sculpting."
"The substantial additions I have effected on my work has made mine a true sculpture-in-the-round, as it portraits geometric complexity using several different materials, without interfering with the 'purity' of the sculpture.
This work is not a frontal portrait intended for placement in niches or against walls. In many cases, pieces of this kind are crudely attached to an unfortunate, too-large, too-heavy stone or wood base and displayed against walls. This pedestal is more refined and I believe, presents my sculpture far more elegantly.
It permits my work to be seen from all sides – like a beautiful piece of furniture."

Isaie Bloch as Eragatory – 'Rocky'
Shapeways, a world leading 3D printing haven of services including designers on demand, host some of Isaie's work and interviewed the artist extraordinaire:
Tell us a little bit about yourself: Who are you? Where are you located?
"I'm a Belgian architect and CG artist under the name of Eragatory. After receiving my first masters degree in architecture, I joined the postgraduate program Excessive in 2010 lead by Hernan Diaz Alonso, at dieAngewandte, Vienna, Austria. My ongoing research and design ambitions are focused on the correlation between craftsmanship and additive manufacturing within several creative domains including Architecture, Fashion and Plastic arts and the digital methodologies blending in between them. I have been working as an artist in the field of hyperrealism exhibiting in Belgium, Italy, the Netherlands, China, Dubai and the USA, creating a range of art-pieces reaching from small prints, to 3D printed sculptures and huge hand manufactured installations. I have also been working together with designer Iris van Herpen on several sculptural dresses which have been shown on the catwalks at the Mercedes-Benz fashion week in Berlin and the Paris Haute Couture Show."

Iris van Herpen & Isaie Bloch at Voltage Couture Show
What's the story behind your designs?
"…Just like all production methods all of them have specific characteristics, 3D printing offers the incredible advantage of being able to produce almost any type of intricate geometry. And that specifically is the characteristic that I want to project in my work as much as possible.
Highly ornamental, specific geometrical conditions and subverted aesthetics are elements which will always be found in my work.
…In contrast to contemporary thought and design, which views things as the aggregation or assembly of smaller bits and parts, in Object Oriented Design new objects emerge out of an ecology of interaction of multiple and heterogeneous objects.
Through a process of formation or computation, highly differentiated, contradictory concepts and structures can become one object, without resulting in an incongruous collage."