3D Print Conference coming to Kyiv!
15.03.2014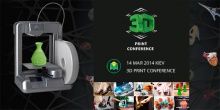 Do you want to know what is 3D printing, what is the difference between prototyping machines and 3D printer and what can you do with a 3D printer today?
Meet 3D Print Conference in Kyiv!
On the 4th of September, 2014, for the first time, Ukraine will host a conference, devoted to 3D printing and scanning -- 3D Print Conference which will answer all of your most current questions about three-dimensional technologies.
We're happy to announce that project's website is already working. All the information on the event can be found at 3dprintconf.com.ua
3D Print Conference Kyiv is more than four theme sections, first-hand experience, communication with market professionals and experts and a lot more!
For the first time ever, 3D Print exhibition and conference took place this winter in Moscow and has become a complete success on the Russian market, gathering more than 5 thousand people at one place. Major media called 3D printing one of the most influential technological trends in recent years, which could revolutionize almost every industry – arts, cookery, architecture, medicine etc.
There has been many foreign visitors on the event, including from Ukraine. After analyzing interest of Ukrainians to 3D printing, organizers have decided to bring 3D Print Conference to Kyiv!
The Conference is expected to unite scientists, experts, developers, suppliers and everyone interested in the progress of three-dimensional technologies. Currently the Conference program is being carefully developed, and professional speakers from all over the world being invited meaning to unveil the main surprise later. It's more convenient to follow the Conference announcements at the official website: 3dprintconf.com.ua
Everyone who likes and uses advanced technologies is welcome for cooperation. Contact us if you want to suggest your speaker or topic for presentation.
You can register and purchase your 3D Print Conference pass now!
Find more information about the 3D Print Conference at
3dprintconf.com.ua
Location: Hotel Rus Conference Hall, 4 Hospitalna St., Kyiv
tel.:+7 (495) 212-11-28
e-mail: [email protected]