3D Print Expo Hosts Music Fest!
25.06.2014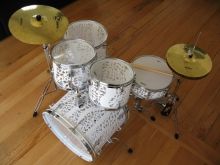 Innovational technologies and music today combine on a whole new level. We can see 3D printed music instruments that become more and more popular.
It all started from small details that improve basic instrument, but now complete sets are being printed. Soon, shops will offer very interesting selection:
Web-shaped ODD guitar with creeping spider tissues inside.
3D printed Steampunk guitar with moving gears and pistons inside.
Comb-shaped bass guitar with figurines of bees. Also, there's a wooden bridge inside that blends with guitar neck.
Atom drum kit consisting of five components. The body of each component has been 3D printed.
Ladybug piano with 3D printed case and materials that have also been used for drum kit.
First, there were some worries that such innovational method of making music instruments would negatively influence their acoustic properties. But professional musicians claim that the sound is perfect, which means that the future of music involves 3D printing!
Everyone interested has a chance to check out the sound of 3D printed instruments on 23-25 of October. At these days, ECC Sokolniki will host a big event in the world of innovational technologies -- 3D Print Expo. On the second and third day of exhibition, visitors will enjoy music festival with 3D printed instruments.
New rave band from UK will highlight the festival, being the music pioneers who plan to organize a full scale road tour and play using 3D printed instruments, which are now being printed: guitars, synthesizers, amplifiers, microphones, drum kits, and even the lighting sets and stage equipment. In October they will start their road tour with the new album "LoveFrequency".