3D Print Expo offers a chance to win a 3D printer!
22.07.2015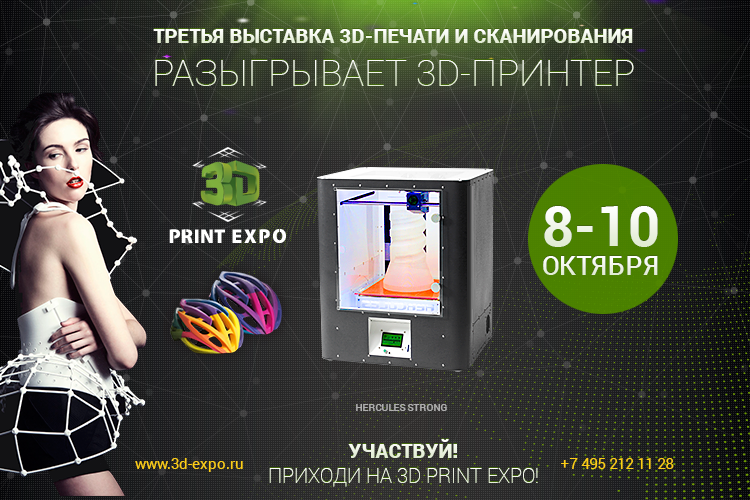 On October 8 - 10, the exposition of the largest exhibition in the CIS and Eastern Europe dedicated to the industry 3D printing and scanning, 3D Print Expo, will be opened within three days.
Year after year, 3D Print Expo brings together the key players of Russian and foreign 3D technology industry in order to familiarize the public with the latest achievements of the industry, provide the opportunity to talk with experts successfully working with this innovation, as well as participate in practical lectures and learn to work with 3D equipment.
This year, in addition to the rich program, the organizers have prepared one more surprise - draw of a 3D printer.
To try your luck in the contest and get a chance to become the owner of Hercules Strong 3D printer, you need to buy a ticket for 3D Print Expo (exhibition, conference or workshop) before October 10 (inclusive). After that, a person automatically becomes a participant of the action. The lucky winner will be selected using the site random.org, and the name of this winner will be announced on the final day of the exhibition - on October 10 at 13:00.

The key point of the contest: in order to get the printer, as well as 10 kg of required consumables, the participant, whose name will be announced, must be personally present at the exhibition on the day of announcement of the results.
Hercules Strong 3D printer is the development of Russian manufacturers that prints with ABS / PLA and HIPS plastic. The working area of the device is 300х300х400 mm. The printer is equipped with a closed chamber for printing, a heated platform and LCD display. Hercules Strong has excellent functionality; it can be used at the production plants.

Do you want to become the owner of Hercules Strong 3D printer? Buy tickets for 3D Print Expo!
We remind you that 3D Print Expo offers three days of intense and rich program: an incredible exposition, interesting conference, training workshops, unique 3D fashion show and much more.