3D Print Expo website welcomes its visitors!
15.10.2013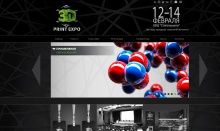 Russia's first exhibition dedicated to three-dimensional printing technologies 3D Print Expo is pleased to welcome visitors to their own information resource - Internet portal 3d-expo.ru.
Thematic exhibition website design is stylish, has user-friendly interface and navigation. Internet resource contains the most current news of 3D industry, all necessary information about 3D Print Expo, including information for those who want to become members, sponsors or speakers at the industry event.
3D Print Expo will be the first thematic event in Russia aimed to acquaint visitors with three-dimensional printing technologies that are now applied in various areas, are competitive and more efficient in terms of production process.
Today the whole world is actively using 3D printing and applies it in different spheres of life. Its use has become an incredible scale - from breakthroughs in medicine (3D printed implants and prostheses) to exquisite culinary inventions (printing food at molecular level).
The event will be interesting for everyone - architects, artists, jewelry designers, software developers, business owners, venture capitalists, marketers, project managers, culinary masters, doctors and many others.
You can learn more about these incredible technologies visiting 3D Print Expo to be held 12-14 February 2014 in ECC "Sokolniki" (Moscow). In the meantime, stay tuned and learn more about 3D Print Expo possibilities on our website!
Contact information:
tel.: +7 (495) 212-11-28
e-mail: [email protected]