3D printing brings 245-year-old Piranesi's etchings to life
27.03.2014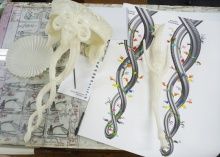 A collection of furniture designed by the eighteenth century Italian architect Giovanni Battista Piranesi, who is most commonly known for his etchings of Roman sculptures and architecture, has been realized for the first time using 3D printing.
The designs are currently part of an exhibition at Sir John Soane Museum, titled "Diverse Maniere: Piranesi, Fantasy and Excess," which opened on Friday March 7. The pieces were created by Madrid-based design studio Factum Arte.
Factum Arte consists of a team of artists, technicians and conservators dedicated to museum conservation and contemporary art. Over the past few years Factum Arte has worked with The Musée du Louvre, The British Museum, The Pergamon Museum etc carrying out a number of large scale projects.
The exhibition produced by the John Soane Museum in collaboration with Factum Arte and Fondazione Giorgio Cini is based on a group of physical objects made from designs by Piranesi that were never realised during his life, since he first drew up the designs in his publication "Diverse Maniere" in 1769.

Factum Arte has produced eight objects in small edition, including a marble chimney, an altar, a coffeepot, two bronze tripods, a chair, a vase and a candelabrum that are on display in the exhibition space. Some have been made using traditional modelling skills while others have been made digitally using 'organic modelling' software.
In collaboration with Materialise, Factum Arte used the "largest stereolithographic printers in Europe" and "milling, fused deposition modelling, electro forming and plating, and a host of moulding and casting technologies" in their creation process.

For example, one of Piranesi's etchings shown below is produced by voxelstudios in Madrid, after which it has been prototyped by Materialise. In the sterolithography 3D printing process, the tripod was divided into sections and then each part is built slice by slice from bottom to top, in a vessel of liquid polymer that hardens when struck by a laser beam. The prototype surface is then reworked by hand in order to add the more intricate details and after which a silicon mould is made from which the tripod shall be cast subsequently.
"Three-dimensional printing technology…opens up great possibilities. Not only can fragile works of art be replicated down to surface colour and texture, but entire monuments can also be recorded and reproduced in this manner." said Jerzy J. Kierkuc-Bielinski, curator of the exhibition.
"Sir John Soane, with his love of new building technologies and use of casts and models in his teaching and architectural practice, would undoubtedly have embraced the potential of the three-dimensional print." He added.
"Diverse Maniere: Piranesi, Fantasy and Excess" will be on view through May 31, 2014.