3D printing in culinary art: from pizza to chocolate candies
12.12.2013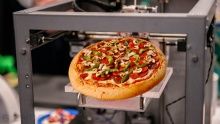 United States Civil Space program allocated funds for creation of special device - 3D printer that will print food for astronauts. Recently, company Systems and Materials Research Corporation engaged in printer development presented its invention at the exhibition SXSW Eco. At the moment the device is in the early stages of development, but the general principle was presented to exhibitors and visitors of SXSW Eco.
During the demonstration one could see how 3D printer prints pizza in layers of dough, cream cheese and ketchup. After this the meal is "printed", it is baked on hot surface.
NASA plans to install similar food printers in spaceships instead of sending food into space.
The device will run under open source software. Special cartridges filled with food ingredients processed into powder will be used in such 3D printers. Term of storage of such products is up to 30 years. In the future it is also planned to use such devices on Earth.
It is widely known that 3D printing technology is widely used to "print food". Many chief cooks use 3D printers to create culinary masterpieces. 3D printing opens up possibilities for cooking unusual meals – it only depends on imagination and desires of the cook.
Everybody interested can get to know about use of 3D printing in cooking, and see the process of 3D printing food with their own eyes at exhibition of advanced 3D printing technologies 3D Print Expo to be held 13-14 February in ECC "Sokolniki" (Moscow). The exhibition will also host 3D Printed Chocolate Festival, where exhibition visitors will have an opportunity to learn about chocolate printing technology, and manufacturers will compete in their skills.