3D Systems Releases iSense 3D Scanner for iPhone 6 & 6 Plus
19.06.2015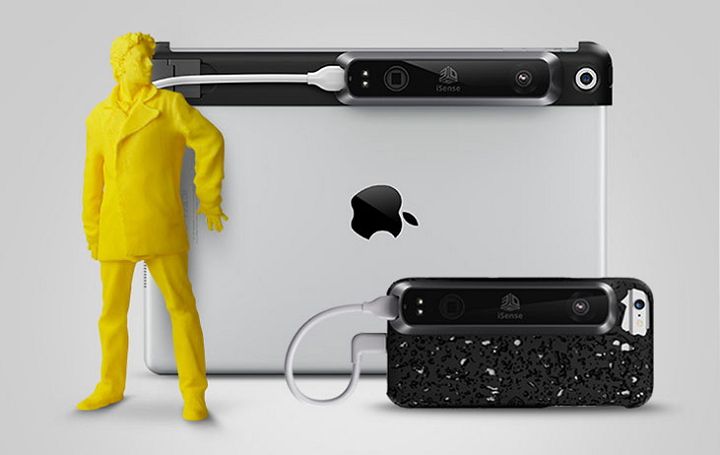 At last year's CES, 3D Systems announced a partnership with Occipital, the makers of the Structure Sensor, that would see a 3D Systems version of the 3D sensor hit the market. For some time, this device, as well as the Structure Sensor, was only compatible with the latest generations of iPad. That is, until the release of the iPhone 6/6 Plus. Now, the iSense has been formatted to fit the latest Apple iPhone, with a specially 3D printed iPhone case from Cubify, along with a major upgrade for the free iSense app.

In order to fit the iSense to the iPhone 6/6 Plus, 3D Systems has released a 3D printed case that connects the scanner to the new Apple phone. The iSense app has been improved, too. As seen with Occipital's upgrades to the Structure Sensor over the past year, the new iSense app will have improved tracking, speed, and full-color vibrancy. All of these upgrades give the iSense the ability to create a scan in about 5 to 30 seconds with a smoother user experience.
The potential uses for the 3DS scanner are pretty vast. The most obvious, from a 3D printing perspective, is the ability to 3D scan objects for full-color 3D printing. Having used the Structure for this purpose myself, I can attest to the quality of Occipital's technology for creating a highly detailed scan using the itSeez app. Last week, Occipital demonstrated the ability to use the iPhone 6 and their scanner as a VR helmet. And, as the 3D ecosystem develops more fully, the applications will only continue to grow.

Adam Rodnitzky, Vice President of Marketing for Occipital, says of the release, "Working with 3D Systems has let us bring the latest improvements to our 3D scanning engine from the iPad to the iPhone for the first time ever. The iSense for iPhone and iPad brings the powerful and unique capabilities of content optimization for 3D printing designed for consumer use."
With shipments expected on July 7th, the iSense for iPhone has just opened for pre-order for $499 at Cubify.com, but will also be available at BestBuy.com and bhphotovideo.com.